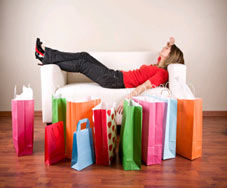 The article talks about the strong existence of women in the retail industry and successfully carrying the responsibilities of both a home maker and a working woman. Retail which was supposedly an area mainly and predominantly occupied by men is experiencing change as women are giving stiff competition thereby opening various channels for the women to explore.

Nowadays Retail Industry is at a boom and is experiencing the participation of women and they are willingly joining this sector to gain knowledge on a different perspective all the way. It is a lucrative profession and there is an urge seen in women to join retail industry without any qualms thereby spoiling the age old tradition of running homes and killing their in capabilities.
"Shop till you drop" is typically mentioned in citation to women because men virtually dislike shopping. Everybody knows men buy but women shop. Both have different priorities while walking down the aisles. Women are by and large impulse purchasers whereas men are planned shoppers. Women are on a mission while shopping (without second thoughts mission is exploration) whereas for men shopping in itself is a mission. Men more likely go in to a shop, buy what they need and come out feeling that they have done a great job. Mission Accomplished!! Unlike men, a woman cares a lot about the overall shopping experience paying detailed attention and emphasis on the unhelpful and unfriendly/overfriendly staff, poor customer service, sub standard merchandise, inept music played in the store and so forth. When a man takes clothing into a trial room, the only thing that stops him from buying is if it doesn't fit whereas women try things on as a part of the consideration process and garments that fit fine may still be rejected on other grounds like price, design, colour, fabric or just to check out more stores etc.
After this snapshot of shopping habits & behaviors of both the genders, the question to ponder over is whether retail can survive without women?
In the modern world, the Indian woman is no longer confined to the role of homemaker rather she is redefined. She readily and wholeheartedly contributes to the home & leads the workplace. Ms. Chanda Kocchar, Joint Managing Director, ICICI Bank; Ms. Preetha Reddy, Managing Director, Apollo Hospitals; Ms. Ritu Kumar, Fashion Designer; Ms. Shahnaz Hussain, CEO, Shahnaz Herbals; Ms. Simone Tata, Chairman, Trent Ltd are the few examples for the same.