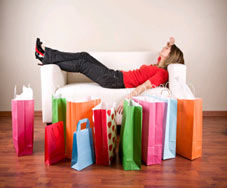 The article talks about the strong existence of women in the retail industry and successfully carrying the responsibilities of both a home maker and a working woman. Retail which was supposedly an area mainly and predominantly occupied by men is experiencing change as women are giving stiff competition thereby opening various channels for the women to explore.

Nowadays Retail Industry is at a boom and is experiencing the participation of women and they are willingly joining this sector to gain knowledge on a different perspective all the way. It is a lucrative profession and there is an urge seen in women to join retail industry without any qualms thereby spoiling the age old tradition of running homes and killing their in capabilities.
"Shop till you drop" is typically mentioned in citation to women because men virtually dislike shopping. Everybody knows men buy but women shop. Both have different priorities while walking down the aisles. Women are by and large impulse purchasers whereas men are planned shoppers. Women are on a mission while shopping (without second thoughts mission is exploration) whereas for men shopping in itself is a mission. Men more likely go in to a shop, buy what they need and come out feeling that they have done a great job. Mission Accomplished!! Unlike men, a woman cares a lot about the overall shopping experience paying detailed attention and emphasis on the unhelpful and unfriendly/overfriendly staff, poor customer service, sub standard merchandise, inept music played in the store and so forth. When a man takes clothing into a trial room, the only thing that stops him from buying is if it doesn't fit whereas women try things on as a part of the consideration process and garments that fit fine may still be rejected on other grounds like price, design, colour, fabric or just to check out more stores etc.
After this snapshot of shopping habits & behaviors of both the genders, the question to ponder over is whether retail can survive without women?
In the modern world, the Indian woman is no longer confined to the role of homemaker rather she is redefined. She readily and wholeheartedly contributes to the home & leads the workplace. Ms. Chanda Kocchar, Joint Managing Director, ICICI Bank; Ms. Preetha Reddy, Managing Director, Apollo Hospitals; Ms. Ritu Kumar, Fashion Designer; Ms. Shahnaz Hussain, CEO, Shahnaz Herbals; Ms. Simone Tata, Chairman, Trent Ltd are the few examples for the same.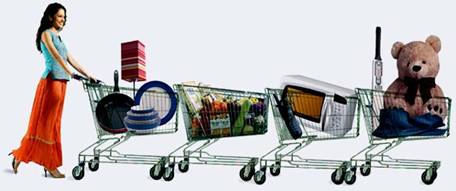 As a perfect homemaker, she acts as a primary shopper on behalf of all family members and shops for all categories of household products. She acts as a catalyst in shopping for almost everything starting from apparel, footwear, jewellery, grocery, furniture, CDIT etc. She is a customer in real sense and has created a new avatar for her to contribute towards the robust growth of organized retail. In short, women are the largest customer segment for the retail products.
Moreover, globalization has provided opportunities for educated, skilled, middle class women to fabricate her dreams and excel in different fields which were perceived as completely male domains for example Ms. Barkha Dutt, ace journalist or Ms. Kiran Mazumdar Shaw, who became the wealthiest Indian woman after the initial public offering of her company, Biocon. Though they are not in the majority but Indian women professionals are definitely on the rise and are paving the way for future generations. Women are becoming increasingly visible in the domestic and international sphere in media, entertainment, business, IT, politics and literature and retail is no exception.
Women are blessed with certain traits that make them indispensable for retail. They are gifted with undeniable qualities which are tailor-made to suit the needs of this industry. The ability to be pleasant, patient, empathetic, stable, effectively communicate with customers to name a few, are some unique characteristics which makes women more suitable for specific retail roles. The most commendable quality a woman has is the ability 'to connect'. Connecting with people is quite natural for them. A woman sits in metro to get down after two stations but she gets the updates of daily soap from the woman sitting next to her before she steps out. Woman steps into an elevator, hits the button for the ninth floor, and before she reaches her destination, she's busily chatting to some woman next to her. She goes to the salon for haircut and adds atleast three more friends to her list before she leaves. She knows all about who in the office is planning for vacation and where, whos a member of which club, who is seeing a therapist, whos dating or whos thinking about changing jobs. People call it gossip but it can be called Connecting, which is naturally cultivated in them. Also, women customers tend to be more comfortable with women employees and vice versa. With this persona they are quite expectedly becoming the preferred choice in most front end profiles which requires constant interaction with customers. Considering the high attrition levels, women can be a better option as they stick longer in the service industry as compared to men.
Currently, the female-male employee ratio is 15:85 as quoted by Mr. Rajat Mishra (name changed on request) Store Manager, Reliance Retail. The retail biggies are on hiring spree to run and support their various formats but the womenfolk is not given enough share of the pie. Despite the stupendous growth, there is a shortage of female talent working in the retail industry though there has been a significant difference in this situation over last few years. There are very limited organizations who hire staff based on their skill sets regardless of gender. Mumbai based Radhakrishna Foodland intends to have a '64:36 ratio' between its women and male employees as quoted by its COO. They plan to replicate Wal Mart's model by recruiting more women and tilting their balance towards them. This depicts the transformation in the mindset of Indian retailers and their inclination towards employing more females is quite evident. Also, a woman in such a dynamic industry is an economic imperative. Research with Fortune 500 companies showed that those with more women on their leadership teams achieved better financial results. While at present there is more demand of women employees at the front end and store management level but they still lag behind in leading middle and senior level positions. They definitely have the caliber to make a mark in other retail positions in a big way. The Indian retail industry certainly needs more women as role models at senior positions that others can inspire to.
However in order to efficiently utilize their talent, industry needs to introduce women friendly policies or schemes such as flexi hours, morning shifts, jobs on part time basis, in-house crche for kids, pick-n-drop facility to name a few. Pantaloon and other retailers have already taken initiative to provide opportunities to their female staff members.
In today's challenging and highly competitive world women are breaking down barriers by succeeding and excelling in every industry including retail. They have the caliber to transform the workplace if given the opportunity to fully express rather than suppress their own feminine values. Therefore retailers need to focus more on hiring and retaining women employees understanding its significant business benefits so that both retailer and the fair sex has more to cheer about.

To conclude, women's personal and professional contribution to the society as a whole must be realized, valued and appreciated.
I am Woman-A Customer, A Retailer & A Professional
The author is Trainer cum Faculty, Programme Leader at Indian Retail School, a premiere retail management institute of the country.