Retailers are in the expansion mode, developing their networks, and expanding into new markets. How cost-effective is it to consider retail expansion, and what are the profitable strategies?
Retail expansion is a portfolio game, with a blend of success and failures. Market is fraught with competition. However established a retailer is; he would still have the euphoria to expand his business; either by increasing his existing store size, or adding more products to his list, or spreading across the country. Discreet retailers are rewarded for their long term outlook in business, their maturity with varying consumer preferences, and for their ability to balance short and long term opportunities.
Retailers seeking to expand their business must be capable of analyzing various retail specific variables. They need to devise successful expansion strategies and identify emerging markets, and investment opportunities. A retail expansion can happen in any of the following ways:
New geographical markets, within the country.
Going for a retail expansion in a big way. Increasing the size of business across the country's borders.
Increase the power of the brand name.
Increasing the product mix; adding more products to the existing list of merchandise.
Working on the existing market, targeting the customers with new price points, promotions etc.
Brands on Expansion:
A research report by CBRE on retail expansion states that the number of retailers who plan to expand their business has increased by 19% in 2011. This is more than the previous years ratio of 13%. A large scale expansion is on the cards by many retailers in a global range, especially in apparels. US clothing brand Forever 21 has recently announced its plans to enter the UK market, aiming for more than 100 stores. Brands such as Superdry and Hollister are also on the expansion mode. In 2011 28% of the denim retailers plan to open more stores, which was only 16% during 2010.
Germany seems to be the most attractive destination for apparel retailers. Good economic growth and less global retail stores in Germany drive the country's popularity. This has captured the attention of 41% of global retail players who are chalking plans to enter Germanys retail segment. Poland, France, Spain, and UK closely follow behind.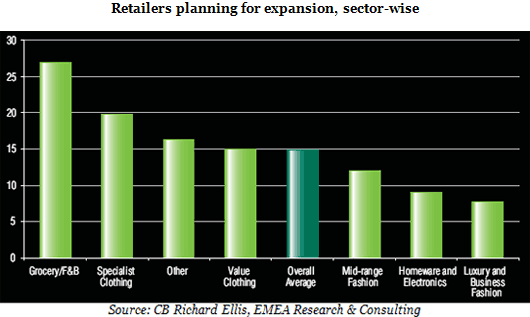 Strategies for Retail Expansion:
Geographic Strategy:
Effective development and marketing of standardized products and brands are vital for the success of retail expansion. The initial step for a retailer is appraisal of the existing business. While planning for a geographical expansion, the retailer must keep in mind that a successful retail concept of one area may, or may not be successful in another area. Factors crucial for a retail store such as customer loyalty, financial aspects such as lease conditions, and demographic aspects should be analyzed and considered.
Ownership Strategy:
Retailers may plan for an expansion based on their ownership strategies which may be single ownership, corporate chain, or contractually licensed. Retailers may plan for a single ownership of retail outlets. This happens frequently with small retail formats. Corporate retail chain consists of multiple retail outlets operated by a single owner performing all activities. Retailers may also opt to expand their business through a legal agreement where the retailer allows an operator to run the business for some financial considerations. Other options such as online and catalog method of expansions may also be considered.
Product Mix & Market Penetration:
The Ansoff's growth matrix of H. Igor Ansoff sets priorities for a retailer while considering expansion in the line of existing products, as well as introduction for new products in the market.

Market penetration: This occurs when a firm wants to sell existing products in the existing market. This is less risky for a retailer as the brand is already established in the market. The strategy has two main objectives:
Maintaining or increasing market share for current products.
Increasing product usage for existing customers.
However, it has its own limitations as to how much growth one can achieve.
Product Development: This strategy is adopted when new products are developed and sold in the existing market. A retailer would choose this option, as it is not possible for him to sustain in the market without innovation. Good market knowledge and skills to develop the new product matching with the consumer preferences is required to succeed here.

Market Development: Under this strategy, existing products are sold in new geographical areas. This would also mean expansion into the foreign markets. More money and focus is required in this option for research and development, marketing, and persuading consumers in the new market. This includes:

Developing new markets.
Creating new market segments.
Adding new distribution channels
Formulating new price policies to attract customers.
Diversification: This strategy is generally considered as highly risky, wherein a retailer sells entirely new product to new customers in new markets. Identifying new opportunities may be behind this expansion. The retailer must carefully access his abilities and competencies before taking this option.
Rate of Expansion:
The rate of expansion of business must also be considered. Too slow expansion will result in loss of opportunities, while rapid expansion will bring issues such as management, training, and infrastructure problems.
Vigorous initiatives from the retailers regarding expansion plans indicate a positive outlook for consumer spending in the fashion apparel sector. Apparel retailers are attempting to make the maximum utilization of this opportunity.
References:
1) Cbre.eu/uk_en
2) Retailtouchpoints.com/
3) Ace.sg
4) Provenmodels.com
Image Courtesy:
1) Bme.eu.com
2) Thumbs.dreamstime.com