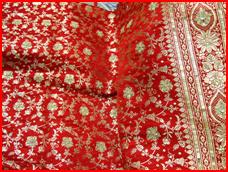 Banarasi saree are the hallmarks of the today's modern fashion world. It is a must wear attire for women who want to look elegant and yet sober and sophisticated. It is popular not only in Bengali weddings but rather these types of sarees are desired by every woman regardless of social status or religion.

We see all the Indian women clad in these elegant sarees regardless their knack for the Western culture. Actually, these sarees are getting really popular day by day and women from various ethnicities and backgrounds have started to demand these banarasi sarees.
This ethnic wear of the Indian women really make them stand out visible in the crowd with an air of elegance and sophistication around them. Banarasi sarees are not only famous in the Indian fashion industry, rather they are rapidly making their way to the international fashion world as well where every woman wants a saree for herself to wear and brag their personality. We see people from the Indian fashion industry (like Satya Paul, Manish Malhotra) increasingly going for this traditional and yet remarkable wear for the women.

Indian sarees come in traditional and designer wears out of which the latter is widely inspired from the multifarious range present in the traditional sarees such as the Banarasi saree. Banarasi saree also happen to be a bridal dress for the Indian women. There are many intricate and complex designs woven into these six yards of saree which can stun anyone who looks at it. On average, it takes 15 to 180 days to complete such a mind-blowing piece of human creation and an Indian bride is truly considered as incomplete without it.

With all the mechanizations and technologies, Varanasi is still relying on hand weaving to make these Banarasi saree which make them all the more special and outstanding. In the past, gold and silver threads were used to weave these sarees and still now, the designers use zari work to make it appear as original gold or silver threads. These sarees with gold and silver in it used to be specifically made for the royal families and the weavers used to get their ideas from betel nut leaf, emeralds, jasmine, marigold flower and various such natural wonders.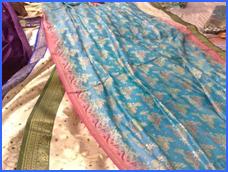 Nowadays, banarasi sarees are getting increasingly popular and becoming every woman's first choice. There are various websites on the Internet dealing with the shipping of these Banarasi saree all around the globe. They are highly in demand given their fashionable and exotic weavings by the excellent designers who work with zari, emeralds and motifs. Although they are originally Indian, nevertheless women from all around the globe and from all social classes love to wear this fabulous attire!
Source: http://hearypotter.articlealley.com/
Image Courtesy:
banarasi.net
sareeshop.blogspot.com
dhimankapil.blogspot.com