China is losing its foothold in the global sourcing market. Countries that were once having their sourcing operations with China are now seeking alternates. How much would this shifting favor its Asian counterparts, especially Bangladesh?
The word 'sourcing' invariably meant China, until the recent past. Of late, with issues such as Yuan appreciation, soaring labor and material costs plaguing the dragon nation, countries which were having their sourcing operation in China so far, are now considering other options. Market trends indicate spectacular views indicating that industry key players are slowly moving from China, and are considering other options for their sourcing requirements.
Earlier China was a most preferred sourcing destination. Evaluation criteria's analyzed by any sourcing country for selecting a sourcing destination are; labor availability, skilled labor force, labor costs, infrastructure development, techniques, and skills available in the city. Many businesses have established their sourcing operations in different cities of China which had economic and social development.
But currently, industry players are feeling dismal about China. Numerable factors such as aging work force in China, increasing labor costs, Yuan appreciation, and hiking material costs are pushing China from its place as a desirable sourcing destination. Drastic development of the country has caused an increase in the price of material, labor and transportation. All this is likely to affect its competitiveness in the global market.
Shifting trends towards Asian countries:
Increasing production costs shortens the gap of manufacturing costs between China and other countries. Buyers are seeking other alternatives that would be less expensive, comparatively over China. A survey report by KPMG reveals that, "With increasing labor costs and an aging workforce, China is losing its foothold as the world's lowest cost manufacturer of consumer goods. Rising costs are forcing companies to take a closer look at new sourcing locations across Asia ". A survey about the German companies in China reveals that one out of every five German companies operating in China is planning to pull out their operations.
More Chinese made apparels exported to the EU and US were recalled during 2009, majority apparels being sportswear, childrenswear, and specialty garments. Out of 92 textile and apparel products recalled by the EU during 2009, Chinese made garments accounted for 65. This deteriorated the image of Chinese made apparels in the global market.
Options to cope with increasing costs of China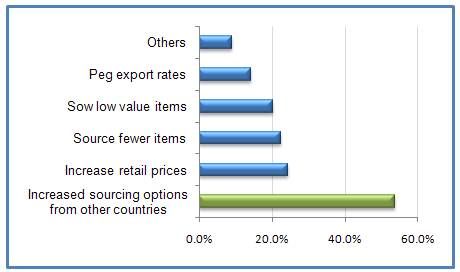 China is currently in a position of speculation. Changing environment of China is forcing companies to reconsider their sourcing strategies. International buyers are exploring new regions for their operations. Other Asian countries come on the radar as preferable sourcing substitutes to China. The main reason being their location very near to China facilitates similar transportation charges they incurred while doing business with China.
Bangladesh - seeing new horizons:
Earlier Bangladesh was not much preferred as an option for exporting clothes to rich western nations. Currently, the country is becoming one of the biggest exporters of apparels to the world. It offers a lucrative option for buyers who are seeking options for sourcing from China. During the current FY Bangladesh exported more than $18 billion worth of readymade garments, which accounts for almost 80% of the countrys total export revenues.
Gross annual wage rate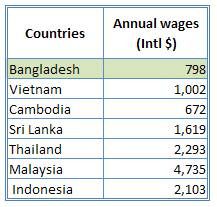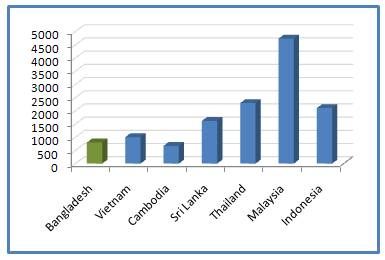 Bangladesh enjoys low manufacturing costs due to inexpensive labor, simple labor laws, and economies of big scale manufacturing. Labor advantage of Bangladesh is competitive, which makes it a preferred sourcing destination. Population is more than 150 million. While the average Chinese citizen is 34 years old, a Bangladeshi is 10 years younger, comparatively. The country has the advantage of getting young labor force in cheaper rates. Though many of them depend on agriculture, garment factories offer good number of jobs.
Availability of fabrics at competitive rates also makes it attractive in the eyes of global industry players. Mr. Surinder Anand, Executive Secretary of Garment Exporter's Association while speaking to Fibre2Fashion says, "Bangladesh Government is also providing more fiscal benefits including exemption of export profit from the levy of income tax besides other fiscal benefits. Bangladesh garment manufacturers get fabric and other raw materials at international prices as if they were buying these inputs from local suppliers ".
Apart from this, Bangladesh is also enjoying the benefits of free trade agreements. EU has allowed duty free exports of apparels. Bangladesh Export Promotion Bureau has optimistic expectations to reach $30 billion in garment exports by 2015.
Bangladesh's apparel sector is quickly developing into a successful export oriented industry exhibiting phenomenal growth. The country's apparel industry is likely to become more competitive in the global market in the years to come.
References:
1) bbc.co.uk
2) kpmg.com