With the fourth quarter holiday season on the cards, what is the outlook of the US apparel retailers? How are they gearing up to meet the situation?
Retailers are a bit cautious due to prevailing economic uncertainties, and restricted holiday spending forecasts. Christmas has always been a remarkable sales period for US retailers, but these years, things may end up differently. Reports signal that retailers would have a difficult time, as a double dip recession is looming around creating sub-standard Christmas sales. Conservative shopping attitudes of the consumers will infect holiday spending for this season.
Shoppers have been cautious in their spending patterns this year, making every customer entering the shop to be really valuable for the retailer. A Reuters survey state that 27% American consumers plan to spend less for this holiday season, and 55% tend to spend the same amount for their shopping. Guardian.co.uk reports Chris Williamson, chief economist at Markit, saying, "Retailers are facing a challenging lead-up to Christmas and the festive season may be one of the toughest yet that we've seen in recent memory."
The optimistic view:
Hiking fuel prices, increasing unemployment, and a drastic change in the shopping attitudes of consumers have indicated a bad season for retailers. Despite these issues, apparel retailers are hoping positively, that amidst all crisis, people would shop either the same way as the previous year, or even a little more. Along with all the negative predictions regarding slumping sales, renowned apparel, and accessories categories are optimistically expected to see an increase of 2.7%.
Retailers are adopting versatile strategies to lure shoppers inside their store, and convert them into sales. Their marketing strategies include displaying their holiday collections well in advance before Christmas. Wal-Mart is confident of its sales in good figures. The retail giant is focusing on adding more decors on the lawns, and an elaborated Christmas village decoration. Macy's are increasing their staffs to provide exceptional service to every customer who enter their store. JC Penny has implemented iPad services, facilitating its customers a flawless in-store experience. This is done with an initiative to promote sales during uncertain economic conditions where customers are choosing bargain shopping over luxury purchases.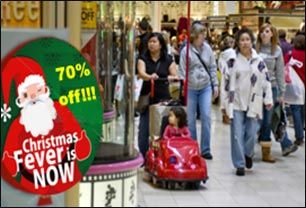 Attractive pricing strategies are also adopted to sustain competition. Tesco, Dorothy Perkins and Matalan have declared a 70% discount sales, while GAP and Debenhams have publicized a 50% discount. Stores find discount coupons as a cost-effective way to promote sales, as this strategy would charm customers who are willing to buy, but are looking for options to spend less than the previous year.
Online sales have witnessed a year-on-year increase of 12% compared with the previous year. Shopping through smart phones and tablets will be in trend. Big brands and stores are intensely promoting their products online.
Retailers must focus and come up with strategies to convert holiday shoppers into sales. This year Christmas would be a 'make-or-break' situation for retailers. The next couple months would reveal what is Santa's Christmas gift for retailers.
References:
1) marketwatch.com
2) christmasnewswire.com
3) Apparel Online, Oct 16-31, 2011