The beauty and complexity of carpet design has been with us possibly since the invention of weaving and certainly for the last two millennia or more. Although much of the obvious design work for this discipline can be found in Asia, Europe does have a history of uniquely individual design work that is linked to both traditional regional craft styles, as well as more recently studio based work that was originally hand produced and then machine.
In the nineteenth century British carpet production in particular, was becoming increasingly part of the mass manufacturing industry. With the increase in production there was an equal need for an increase in the number of distinctive pattern work examples for carpets. These were procured from a number of different sources which included traditional Islamic carpeting, French eighteenth and nineteenth century work, along with contemporary design work produced by various British designers, a proportion of which were part of in-house design teams connected to the individual manufacturers of carpeting.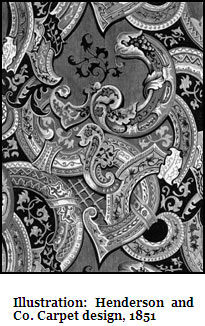 At least a proportion of decorative pattern work used in carpeting was derived from near copies of either existing work, or detailed drawings of styles both current and historical that could quite confidently be reused with little if any procedures concerning copyright. Copyright laws took much of the nineteenth century to systematically put in place, and much longer still to prosecute, particularly internationally.
However, original decorative work was possible and although perhaps being inspired from various sources, was still considered individual enough to count as unique. The two illustrations for this article show original design work for carpeting produced by the Durham manufacturing company of Henderson and Co in 1851. In fact, the two designs were entered as fitting examples of the work produced by the company for the Great Exhibition of 1851, held in Hyde Park, London.
The two designs are complex and varied. They seem to bring in elements from Indian decoration in particular, which is an interesting development, India becoming more and more important to Britain both politically and decoratively as the nineteenth century progressed. However, there seems in these two cases in particular, a marked allegiance to Indian marquetry and inlay rather than textiles. Indian inlay work was particularly popular and very much admired in Britain for its complexity, skill and beauty.
The first example in particular, shows a sophistication and understanding of decorative pattern work. Not only are the arced decorative motifs overlapping and intertwining each other, but also scales are mixed with small splays of arabesques being picked out in both light and dark colours against the more obvious decorative bands which appear as though thick borders. This particular example seems vibrant and full of movement and must surely have been a visual feast for the eyes.