For those who aren't bothered by the finer points of gender equity, a diamond ring clears the confusion. Jewellery is the perfect present for all occasions and not limited to a specific gender. Be it engagement rings, bracelets, pendants, earrings or necklaces, diamond jewellery is one such ornament that never goes out of fashion. Diamonds attract attention with its spark and unbelievable radiance. A wide array of ornamental forms can be found such as rings, pendants, necklaces, earrings, bracelets, watches and many more designed for men and women. These days, diamond jewellery is accompanied with a touch of gold which adds to its sparkle. Amongst a host of diamond jewellery, diamond rings serve an excellent accessory to enhance ones personality.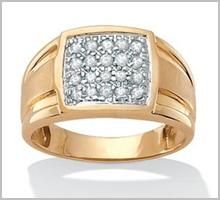 When it comes to jewellery, it's not just women but men are also inclined to wear diamond jewellery that looks trendy at all times. Lately, diamond rings with a touch of white gold have evolved as a style statement amongst men, including celebrities and sportsmen. It started from Hollywood stars of the sixties and seventies that introduced the trend of wearing rings and ethnic pieces for men. The latest era reflects hip hop stars flaunting their "bling" by wearing trendy diamond on their fingers with the most stunning cuts, particularly emerald cut diamond rings with prong settings, which gives a masculine edge to this combination of jewellery in particular. There are many styles of diamond rings with this amazing combination that has been adored by every man and woman for centuries.
Most of the women today prefer adorning themselves with round cut diamond rings that look elegant on their ring fingers and makes them stand out in a crowd. A small and sober looking diamond can make a difference, enhancing your personality, in case you are wearing at work. An unusual combination of white gold and yellow gold, making for a two toned bands with a raised diamond looks majestic. Gold and diamond rings match with any outfit that fulfils the need to look elegant and appealing in a crowd.