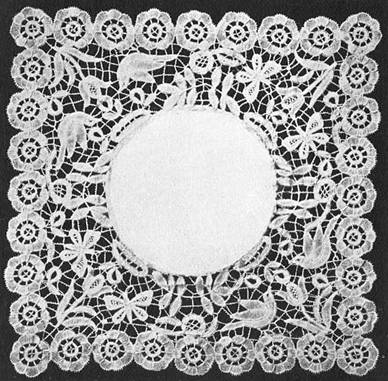 Illustration: Honiton lace design, 1910.
The town of Honiton in Devon produced some of the most sought after lace in England. It was said that the town had been producing lace since the Elizabethan era, although it is now thought that serious production of lace did not begin for another century after that.

Although lace making in Honiton and the surrounding area was given a boost when lace makers were commissioned to supply lace for Queen Victoria's wedding dress in 1841, the actual production of lace was in a slow, but general decline. Through competition from other, perhaps more prestigious lace making areas of Europe and through the incursions of industrial lace production, the Honiton lace craft was seriously challenged in both price and speed of delivery.
Although Honiton has given its name to a particular form of lace decorative work, it is largely because as a market town Honiton sold the lace rather than produced it. Much of the actual craftwork was produced in the many towns and villages in the surrounding area, such as Axminster, Beer and Branscombe. In fact, the actual lace for Queen Victoria's wedding dress came from Beer, not Honiton.