Cloud computing technology is getting its foothold in every industry, and fashion segment is not an exception. Today's knowledge based technological service systems allow organizations to save time, and money. It also enables organizations to achieve better, reliable and fully documented decisions resulting in a quantum improvement.
Cloud computing has made its increasingly powerful presence in the fashion industry. Most audacious patterns and prints are being created by computers. The requirements for fashion industry are more demanding in the world of manufacturing. Fashion retailers need to ensure that right assortment is available in store at the right time. In fashion industry on time delivery is more critical for business success. ERP software is designed to link every aspect of the supply chain, and deliver transparency and visibility for the industry. It also enables better forecasting, planning and management of inventory.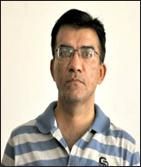 In an exclusive interaction with Fibre2Fashion, Mr Sunil Arora, Vice President, Business Development (Asia Pacific), World Fashion Exchange states, "ERP software manages the entire fashion product lifecycle, from order management to billing, and from production planning to inventory control. WFX plans your resources efficiently, within budget and across all offices and locations." He cheerfully adds that WFX ERP is the world's first Enterprise Resource Planning (ERP software), exclusively for the Fashion Industry, On Cloud Computing.
Features & Functionality of ERP Apparel Software: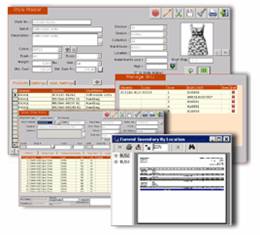 Specifications Bank:


Fashion retailers always face the pressure of delivering new collections frequently. ERP software enables the retailer's ability to meet the demand, satisfy customer demand, and increase sales. Sunil says, "An on-line showroom is created through WFX ERP Apparel software that is a virtual storehouse of information. This enables to get information on styles, technical specs, packaging details and buyer and supplier approvals. The latest revisions uploaded onto the ERP Apparel Software are always accessible to all. It is possible to create online Requests for Quotes on any style and send to a global vendor base. Security is provided with Restricted Login Access to buyers or suppliers allowing them to place orders directly into the system. "
Bill of Materials (BOM):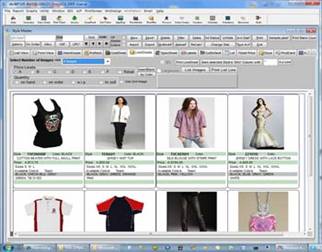 Bill of Materials is normally used as per the procurement or production deadlines. Through efficient ERP systems several types of BOM can be efficiently managed as per the requirements of the customer. Sunil quotes, "The software links up with the order and instantly creates Materials Requirement & Indents, which are transmitted online to the sourcing team. It also links to inventory to check if the specified article already exists. An opportunity for cost saving for manufacturing organizations."
PO Repository:
Further elaborating the benefits of the software he says, "The sales team can create Purchase Orders against these styles, even at the client location on their laptops using the Internet i.e. Create online sales orders, instantly on the ERP Apparel Software."

On-line Pos:
"Electronic Purchase Orders are transmitted to the suppliers with online confirmations, saving time and delays. It lists out orders per buyer/per season/ per month/delivery date."
Inventory and Warehouse Management: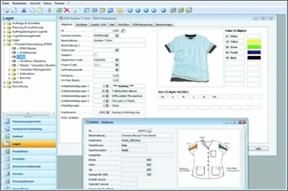 For optimal inventory management processes, a robust functionality of logistics management is required. ERP technology helps to track materials on the basis of both quantity and value. Sunil Arora states, "It helps to assess your organization's actual stock situation with ERP apparel software based on quantity- and value-based criteria, and analyze warehouse activities, such as the physical flow of materials. Real time status of all materials against any Buyer Order is visible to all, at any location offering complete transparency including materials in transit."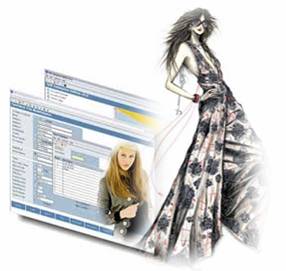 Order Fulfillment & Procurement Monitoring:
ERP software helps to evaluate and improve order fulfillment using key performance indicators for shipping and order management. It enables to evaluate vendor performance and transaction history for supply chain optimization, monitor purchasing operations and provide detailed analysis of purchasing activities and procurement processes across offices, locations & vendors which will support your production planning.
Production Planning and Import Management:
ERP software helps to create a complete plan for production by allocating orders to factories and lines. It enables to gain control over production through the planning board, allowing monitoring of an order's status through the supply chain with drill down to individual processes (cutting, stitching, packing, finishing etc). Furthermore, it identifies production bottlenecks and optimizes capacities.
Echoing similar sentiments, the WFX Vice President says, "It helps to monitor the production of your offshore factories as well as vendors' and get daily updates on production quantities per color/per size. Check actual quantities shipped against orders to identify variance. Receive ASNs, custom documentation as goods are dispatched. Reduce chargeback through scanning of bar codes with accurate packing lists and delivery notes that are printed automatically. "
Collaborative Time & Action (T & A) Calendars: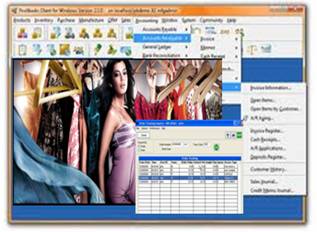 "ERP helps to monitor and control orders, get Real Time status on any order across global offices to optimize the delivery cycle. It aids to generate escalation based alerts to prompt internal users across offices as well as suppliers to perform on-time."
Sunil winds up the discussion praising about its flexible reporting capabilities. "This ERP Apparel Software lets you analyze profitability per order/per and drill down to global, region, country, office, supplier and user level."
It is no longer a question whether enterprises use cloud computing or not; they already are. But, the technology is at a nascent stage, wherein it is yet to be figured out of how to take advantage of the various elements of cloud computing. As a vertically integrated organization, fashion industry is challenged with multiple systems to support, and a supply chain which is difficult to manage. Through appropriate ERP software, fashion industry can unlock the value of its operational data through business intelligences, and improve management by tracking the entire supply chain.
References:

Eresourceerp.com

Cloudnewsdaily.com