Nowadays, some of the synthetic dyes are carcinogenic or toxic in nature and they cause skin diseases, allergy. They are harmful for plants, fish and other living organisms in water. So they upset ecological balance. Tri- functional reactive dyes are introduced to overcome this problem. They have extensive fixation rate and also they are eco- friendly in nature due to least dyeing residue. India is famous for its multi coloured textiles. Thermochromic colourants are one kind of micro encapsulated dyes that can reversibly change their colour by temperature change.
When temperature rises to specific temperature, the color changes. The color starts fading back to original color as pigment is cooled down. The advantage of using tri- functional colors is that the dye exhaust to the extent of 92 (+ $- 3%). Some of them also need less salt. So this process is pollution free and eco- friendly process. Tri- functional colours are especially designed to get cloudy effect on fabric. It resembles the tie and dye effect. They have no sharp boundaries and are less laborious.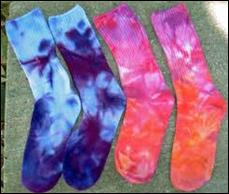 This endeavor study was done to introduce tie and dye effect through Trifunctionalcolous / thermo chromic colours. In this study, tri- functional colours were used to create vivid design resembling tie & dye effect. To attain the specific objectives of the study, it was divided into different phases- firstly; the fabric was scoured, and then dyed with tri-functional reactive dyes. After dyeing, fabric was tied with thread at different points. Then, samples were discharged and neutralized. After this, properties of both the samples (Tri-functional dyed sample and traditional tie and dyed sample) were assessed such as washing fastness, sunlight, ironing, rubbing and dry-cleaning and compared with each other and samples were evaluated by respondents.
The result showed that the cloudy effect and tie and dye effect had good to excellent fastness properties. Not much difference was found between the properties of both the samples. Cloudy effect and tie and dye samples were highly accepted by respondents.
Dyeing of textile is a very tricky process, which needs a lot of skill and definitely sound technical knowledge. Most of the dyeing in textiles is reactive. ie. Reactive dyes are used.
These reactive dyes have brilliant shades, excellent wet fastness of dyeing due to covalent bond. There are many types of reactive dyes- Mono-functional, Bi-functional, Tri-functional reactive dyes. Tri-functional reactive dyes have reduced salt content and colour.
"Tri-functional dyes or colours" are especially designed for garment industry to get cloudy effect on garment. This cloudy effect resembles the tie and dye effect but is different from the above effect in following aspect.