How does the clothing range of the pharaohs, their queens, and even simple countrymen prove a magical source of inspiration to modern fashion designers?
Egypt is a country of kingship and divinity. 5000 years of civilization has contributed to their cultural heritage. Ancient Egyptians loved fashionable clothes and fashion related accessories. Egyptian clothing style is simple and elegant. They are more focused in grooming their appearance, and their clothing is designed, crafted, and worn with great thought and care. Their choice of clothing endowed Egypt with a unique place in the fashion industry.
Clothing in Egypt:
Apparels of Egypt are designed to be light weight to suit the hot climate of the country. A vast majority of their clothes are made from plant fibres. They wore clothes made of linen throughout the hot weather.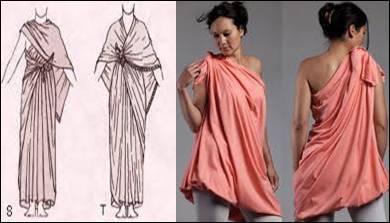 Today, fashion trends change in a wink. But in the 5000 year old Egyptian history, fashion has changed very little. During the Old Kingdom, people wore simple garments without much sewing. Egyptian clothes were mostly of the draping type, held in place by knots, and waist belts placed in the fabric itself. Mostly white in shade, people of the higher society wore long, pleated, and see-through robes.
In the ages of the New Kingdom, fashion was restructured and became more decorated and complex. Garment had elaborate pleats and fringes sewn into tunics and other garments. Garments with intricate embroidery came in vogue. During this period, the Egyptians were highly influenced by the Assyrian, Greek and Persian fashion styles.
Egyptian Men:
Men were more fashion savvy in ancient Egypt. Their clothing had a wide assortment of more than 40 different styles. Fabrics obtained from their tomb, and their drawings stand a proof of this. Their kilts indicated their age, social position, and status. It was worn over long pleated skirts decorated with fringes. The age of the New Kingdom gave a fashion coat to the Egyptian men, bringing more colorful applications in their clothing line.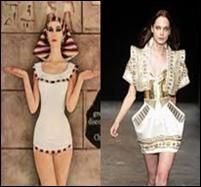 Egyptian Women:
Women of this desert land wore clothing that was more form fitting. Their clothing style was more fashionable, delicate, and choosy. Women of the Old Kingdom wore long skirts, and robes with pleats, and fringes wrapping around their waists. Robes were parting slightly in the middle, exposing their legs. Based on their social status, apparels were embellished with sequins, embroidery, feathers, and rosettes. More the wealthier, more was the sheerness of their costume.
Egyptian Fashion an inspiration to modern fashion:
Egyptian style has been adopted and practiced by every generation. Today, fashion designers from across the globe take their inspiration from Egyptian styles to create their dream collection. The Egyptian cannon or proportion, the aesthetic of strong muscular shoulder and attention to proportional balance is adopted by designers. The biggest of the Egyptian influences on contemporary fashion trend is the feminine silhouette. Linear shapes in tailoring and wrapping of the body is inspired from Egyptian sculptures from the New Kingdom era.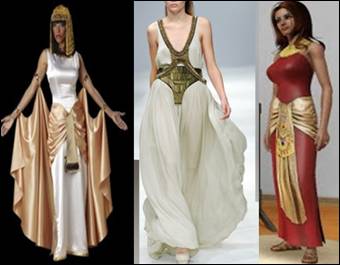 Comparing modern clothing styles with ancient Egyptian attire, one can see many similarities. Models trend the ramp displaying alluring outfits displaying the creativity of fashion designers who acquire inspiration exploring the ancient styles of Egyptians. Most of the elements in women's clothing have an Egyptian touch. The long robes wrapped around the waist, share their similarities with the iconic flapper dress of the 20s. Current trend of tunic dresses and tops with waist belts for the perfect hourglass figure was originally sported by Egyptians.
Be it clothing, jewellery, hair or makeup, Egyptian influences can be seen in fashion today. The black kohl eyeliner used by the Egyptian women is used by ramp walk models today to darken and highlight their eyes giving a smoky effect. The batwing eyeliner and smoky eyes have been women's classic choice for centuries. Enormous cocktail rings in vibrant shades bring an Egyptian inspired aspect. Layers of jewellery with multiple bangles are seen both in cat walks and high street. Wide head bands sporting feathers are reminiscent of the Egyptian style.
Cleopatra bewitching fashion icon: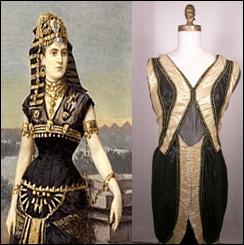 The bewitching beauty of Cleopatra first seen when unrolled from the carpet still lingers in the mind of fashionistas. A powerful ruler with diplomatic skill sets and personality, she is also a dominant fashion inspiration. Fashion designers create their dream collections taking inspiration from the alluring apparels of the Queen, and seasoning it with their creativity.
There is very little to deny that Egyptian styles continue till the 21st century. Ancient Egyptian styles have a longevity, which is rarely observed in fashion. Their styles have influenced fashion for centuries, and are seen as classic attires in many women's wardrobe.

References:
Fashion-era.com

Heritage-key.com

Thedailynewsegypt.com
Images Courtesy:
Blog.fashionandyou.com

Arhstatues.com