The 'Global market review of lingerie and intimate apparel - forecasts to 2017 predicts that the lingerie market at retail prices will be worth $29.23billion in 2012, and it will rise to $30.55billion over the next five years. From the entry of large international brands in India and available choices of Indian women, it is evident that the Indian Lingerie industry is witnessing robust growth. The key factors driving Indian lingerie market is the increasing size of the organized retail, changing lifestyle, growing consumer class, growing urbanization, and increasing per capita disposable income. The biggest retailed lingerie item is the bra. Innovative bras are able to be created due to changes in technology and the variety of fabrics now available to designers, such as laser cut seamless bras and molded t-shirt bras. The vast majority of bras on the market now are under wired. Know-how about wires and its manufacturing methods are little known to all. Majority of bras on the market now are underwired. Know-how about wires and its manufacturing methods are little known to all.
Underwires
An under wire bra is brassiere that utilizes a semi-circular, thin strip of rigid material fitted inside the brassiere fabric. A semi-circular "underwire", "bra wire", or "wire" is embedded in the wire channel that circles the bottom and sides of each cup. One end of the underwire is close to the armhole while the other end, or head element, is close to the front and center of the bra.
Wire Materials
The under wires are made of metal or molded plastic. Plastic underwire has a very small share of the market because it does not provide the same support and rigidity offered by metal underwire.A metallic underwire is a thin strip of metal, usually with a nylon coating at both ends. About 70 percent of women use under wires made of steel. Nylon coated galvanized steel under wires are more popular in the market.
It is known to provide under wires with tips at the ends thereof to prevent the underwire from poking through the fabrication of the brassieres and injuring the wearer. Color-coded powder tips are made for easy identification of sizes in the sewing floor and handling during manufacturing.
Wire Manufacturing


A method of making brassiere under wires comprises the following steps:
(a) forming a continuous strand of a harden able material and applying at spaced-apart locations there along, corresponding to desired lengths of brassiere under wires, pairs of thermoplastic brassiere-underwire tips each surrounding the strand;
(b) To separate into successive lengths, cutting the strand between the tips of each pair, each having respective brassiere-underwire tips at extremities
(c)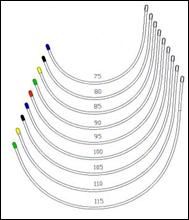 Hardening the material of the shaped lengths after shaping each of said lengths into curved underwire shape in a mold.
(d) Tipping and Colour coding at the ends for size identification
It requires special machines and techniques.
Bending Machine
Apart from ordinary machines, advanced types of machines with PC interface and touch screen facilities are also used for wire manufacturing.

When the Customer sends a sample or a blueprint, Part geometry of underwire is recognized and searched in available database. If no shape is found close enough to customer request, a new entry is added to database. Production machinery is networked with PC system therefore the new entry is immediately available to production floor. Shape geometry is transformed into bending instructions. The shape is scanned with PC blueprint and geometry management system .New blueprint is printed and if required fine tuning of underwire shape is done. Production can start after these steps and approximately 9000pcs/hour can be produced.
One operator can manage up to 4 units. All usual operation are handled by the onboard PC by visual interface (touch panel).Article change takes less than 5 seconds, wire type change in about 20 minutes. The wires coming out from the bending system are automatically heat treated. At room temperature, operator can pick up production ready to be tipped without waiting for hours for the wires to be readied.
Tipping Machine
The tipping machine must be fed by an operator who takes wires and places them on a Conveyor plate. The handling of the parts is taken care of by the machine. It heats them, melts the polymer, allows for tip formation and gives finished parts on a conveyor as 50-pieces groups. Value can be changed by the operator, to allow smaller quantity bundles. The operator at the unloading end controls the tip quality then puts on rubber bands and makes the package.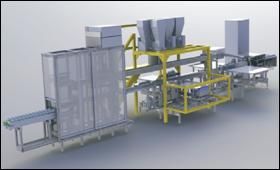 Machine process can be automatic or manual, depending on option supplied. Operators just needed to choose tip colour shade and induction heating parameters. The system has a water chiller unit that must be located nearby Plant. Care must be taken to keep its air inlets/outlets clean from dirt and powder.
The tipping system can be supplied with different colour schemes. Basic model have two colour tanks as all wires will be made without any size-related color scheme (i.e.: one tank will always be white, the other will be always pink).In manual type, user can change any color scheme as he likes as there are two standard white tanks plus unlimited number of small tanks to be switched manually to change coloring. Color change takes only 15 seconds (automatically)
Advantages of this type of machine are:

Speed & quality: two operators can process 20.000 pieces (10.000 pairs) each hour.

Tip colour is obtained by coloured powders: not flammable products in product area, no solvents required, safer and cleaner production environment.

Tipping process is carried out by induction heating, therefore there are no gas burners or big IR emitter that make for dangerous smoke and heat buildup at the production floor

Unloading is carried out automatically, operator stress is much lower, and can spend more time doing packaging and checking quality.

Environment-friendly: less than 6 KW when working at full load. Induction systems are consuming close to zero when machinery is idle.




The other type of underwire cutting machine available in market is equipped with several adjusting modes for steel wires and it is of steady function, high precision and rapid speed. The design principle of the main engine took the practicability and simplification into consideration. It adopts the screw thread get along with circular cam and the movable tool bit to regulate automatically, which can be suitable for the steel products with different specification and radian so as to satisfy the requirements of the underwire manufacturers. The machine is fast, convenient to operate, has infinitely adjustable speed and steady operation. It is suitable for producing the steel wires with different specification and radians.
Wire Casing

Wire Casings are produced from narrow woven and nylon brushed fabrics. The casing has a unique advantage because of their special manufacturing technique which does not allow the bra wire to poke out. Wire casings are sewn into the inner side of garments around the cup with double needle machine. Wires are then inserted into the casing manually at both sides. It is then bar tacked at ends allowing 3-5mm for wire play.
Care Instructions
Because underwire can tear through cloth some times during use, most women hand-wash underwire bras or machine - wash them on a delicate cycle. Zippered mesh pouches or bra wash bags can also be used to protect bras and prevent the underwire from separating from the bra during machine washing.
Conclusion
The lingerie market has grown over the years as the fashion market has promoted it. This has created more demand for lingerie. Lingerie designers are putting more significance into creating lingerie with lace, embroidery, luxurious materials, and other accessories. Manufacturers and retailers will begin to focus on specific niche lingerie as competition within the lingerie industry is rising. As such now, lingerie manufacturers in India import all their required quantity of underwires and similar items from other countries only. In future, we should have underwire manufacturing facility in our country itself.
Reference:
www.marketresearch.com

Ming H. Wu and L. McD. Schetky, Industrial Applications For Shape Memory Alloys, Proceedings of the International Conference on Shape Memory and Superelastic Technologies, Pacific Grove, California, P.171-182 (2000).

www.bramakerssupply.com

http://www.jdeal-form.com

en.wikipedia.org/wiki/Underwire_bra

www.patternschool.com

www.ehow.com