Till recently, the plus-size made a rare reference in the scheme of exports and imports of many countries, but this seems to be changing. Internationally, plus size clothing is not a recent phenomenon but the concept is now gaining momentum in India. Many apparel labels and retailers are realizing the potential of this growing segment and cashing in on it. Earlier, healthy people in the country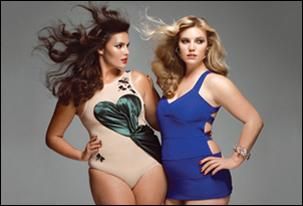 found it difficult to find clothes suiting their body-types but now retailers and brands like Revolution, aLL by Pantaloons, Gia by Westside, Mustard and Royal Classic Polo took fashion to a new level by introducing a different segment for plus size apparel. PLUSS, XMEX, Geetus and Just Your Size are offering plus-size merchandise and opening separate outlets for extra-large clothes. They are constantly adding more sizes and designs as the segment is showcasing great potential.

Retailers say almost 30 per cent of customers look for plus-size clothing, a segment driven by economic growth and labels such as Bangalore-based Mustard. The chain has nine stores in six cities that offer up to nine sizes for a design. Waistlines above 36 inches are considered part of plus-size clothing. Up till now, heavier customers resorted to neighborhood tailors or stores abroad for their needs. But now things are changing.

Though, creating the right design and making it look good in large sizes to satisfy the end user is a challenge, stores are going the extra mile to cater to this growing demographic. With the number of people seeking large sizes is witnessing an increase these retailers now enjoy a large dedicated customer base. Biba, for instance has added sizes up to 46 inches in their mix-n-match section, where customers can buy the pant-like salwar or churidar separately, and match these with clothes, kameez or kurtis, of their choice. Bibas section of pre-matched salwar-kameez sets already has 42, 44 and 46 inch sizes. The chain is growing at 35-40 per cent every year and the plus-size category is keeping pace with that.
According to these companies offering the plus-size concept, there is tremendous potential and growth prospect because the supply is less than the demand. Even Indias largest listed retailer, Pantaloon Retail citing opportunity this segment represents launched stores under a separate clothing brand, aLL, in 2005, for its large customers. The retailer now operates 17 standalone aLL stores, besides also stocking this brand at Pantaloon stores.