What is rebranding? Is it necessary for brands, and how do brands go about it?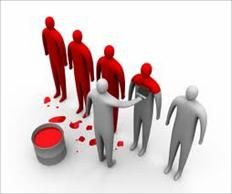 Every brand has a unique identity, character, and personality just like humans. When brands wish to differentiate themselves from their competitors, or to polish their tarnished image, much money, time, and other valuable resources are put for the purpose of rebranding.
When a product developed under one brand name is marketed under a different brand name or identity, it is called rebranding. It may be done by changing the brand's name, image, logo etc. Rebranding occurs generally when a company goes for a merger or acquisition. The acquiring company rebrands their newly acquired products, to keep them along with their existing product line. Rebranding is done to reposition or differentiate the brand or the company from negative opinions about the previous image of the brand or to push the brand still upwards.
Brand, Branding, and Re-branding:
A brand is a personification of all information of a business. Brand image is an intangible and emotional bond created by the business by every interaction, even insignificant ones. Brand image is the feeling evoked in the consumer's mind once the product's name is seen or heard. A good brand delivers appropriate messages, confirms the credibility of the business and gets connected emotionally with the prospects, and strengthens relationship with the existing customers.
Branding is done to attract potential business opportunities. It can be described as an art of creating and developing a brand; successfully. A business needs to manage its branding activities in an appropriate manner to influence the opinion of the target audience, and gain a positive momentum. Branding enfolds the commitment of a business and carries a message to its ultimate consumers that the product encompasses qualities and some special features that makes it distinctive from its competitors.
Rebranding is the process of giving a new image to an existing product or an organization with the purpose of making it more attractive in the customer's eyes, and more successful in the market. This is expected to enhance consumer loyalty, new market penetration, create stronger voice in the industry, and increase share holder value or to recuperate a company.
Is rebranding necessary?
There are always heated debates for and against, regarding the process of rebranding. Some analysts feel that rebranding is an essential part of every business cycle, and is proven for its success by making the brand stand out of the box, by meeting and satisfying the ever changing consumer preferences.
On the contrary, some others feel that rebranding is similar to a cosmetic work out and can be avoided at all cost. Brands that fail to establish itself in one identity, or brands which have been through some scandals would opt for a rebranding process. Here, the intention would be to erase the negative opinion and establish a fresh one. But few rebranding is also backed with positive reasons like mergers, or a company that is expanding its current product line.
What is successful rebranding like?
Even brands that are successful need a makeover once in a while. Mainstream brands like Shoppers Stop have undertaken rebranding initiatives shedding their old corporate images, and positioning themselves in a new image. Rebranding may be just an identity refresher, or a complete rebranding. While some brands such as Gap go for upgrading their logos, few others go much deeper. In either ways, decision for a mere logo change or deep transition depends upon the successful establishment of the brand. Brands that have established themselves in the market for a long time, and are getting outdated, may prefer to go in for a simple identity change, rather than a complete makeover. This is done particularly when the existing brand inspires trust and quality. For instance Godrej has changed only the colors of its font into vibrant hues.
Millard Drexler, the man behind the phenomenal success of Gap took position as J.Crew's CEO when its sales were sliding. His guidance created a dramatic result causing the profits to soar up to 11% in 2009. Drexler rebranded the store, involving it into selling Capri's, tops, etc with a hint of luxury. Brand Burberry was once considered as a gang wear. Rebranding transferred it into one of the hottest fashion labels.
To do & not to do:
Rebranding can followed for new products, those that are still in the development stage, or even with matured products. The process involved is very complex, making it a point of utmost priority to the company. Rebranding of an existing brand needs to be done with much empathy and care, and involves a methodical course of proper strategy, personal interactions and memorable visuals.
Successful positioning of a brand creates vast market opportunities for players, and enables them to enhance their business. Proper brand image, supported by clearly defined USPs can make a business to stand apart in a competitive clutter.
References:
1) Brandchannel.com
2) Marketingprofs.com
3) "Learning Rebranding from Experience of 2007", Pooja Bahl, Priya Sabhlok, & Jayashree Badal, Iiitk.ac.in.