The Garhwal Himalayan region is gifted with a variety of plants that have been considered as a source of number of natural products. Decades ago these plants were used by Bhotiya people for wool dyeing. The art of dyeing with these natural dyes, was limited to a few people and was kept a big secret by those who excelled by this art.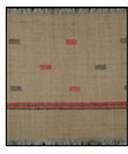 The indigenous practice has declined manifold due to invasion of use of synthetic dyes. In the present study effort has been made to revive the century old tradition of natural dyeing by standardising procedures of extraction and dye application on wool by the available resources of the region.
For achieving the above goal woollen industry of Chamoli Garhwal was studied. Study was carried for knowing socioeconomic status of the artisans, and the present scenario of the industry in terms of infrastructure, processes and products. It was found that this traditional art of Garhwal is dyeing for so many reasons viz., urbanisation, low profits, high competition, limited design and colour range. Botanical survey was done for the exploration of the flora of the region with the view of identifying plants with the potential of yielding natural textile dyes. As a result of this survey a catalogue of fifty dye yielding plants along with their feasibility of commercialisation was prepared.