Blood diamonds', which conjure images of strife, illegal mining, and merciless, armed rebel groups in war-torn African nations, is once more arraigning countries against one another. And India - the world's largest importer of rough diamonds, buying $15 billion worth in the last financial year - has been pitchforked straight into the middle of an acrimonious global debate on what exactly constitutes a conflict or blood diamond.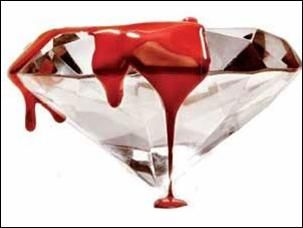 "We are a middle country (in the value chain) engaged in a tightrope walk," says Sabyasachi Ray, executive director, Gems and Jewellery Export Promotion Council (GJEPC). The Indian industry, which employs 1.3 million and exported $23.3 billion of cut and polished diamonds in 2011-12, is caught between two antagonistic forces: the producing countries from where it sources much of the rough diamonds (Africa) and the consuming countries to which it sells finished diamonds (the US and Europe).
This quandary played out last week at a meeting of a global grouping that decides diamonds from which countries are tainted - blood diamonds - and therefore should be avoided. Over four days of a Kimberley Process (KP) meeting in Washington DC, most African and Asian members, including India, threw cold water over moves by a grouping of western nations, including the US, to infuse a stronger dose of human rights into the existing definition of a conflict diamond.
The Kimberley Process Certification Scheme is an initiative of 75 governments, the diamond industry, trade and civil society, trying to stem the flow of conflict diamonds. When it came into force in 2003, the intent was to block diamonds from countries that faced a UN ban. The definition of conflict diamonds arrived at was: "rough diamonds used by rebel movements or their allies to finance conflict aimed at undermining legitimate governments".
The KP has been fairly successful as blood diamonds in trade channels over the past nine years has, according to the GJPEC, fallen from 5 per cent to about 1 per cent now. Only one country, Cote d' Ivorie, is under KP sanctions. The KP is now riled by a sense of inadequacy, especially in the context of Zimbabwe, which is expected to, with its newfound deposits, become the largest producer of diamonds in the near future.
Any boycott of Zimbabwe has significant implications for the Indian diamond industry, which imports about 6 per cent of its roughs - in value terms, about $900 million - for processing from this nation. Even as Zimbabwe emerges from a short period of a KP ban on exports, a new definitional debate that centres around human rights is beginning. The country doesn't really fit the worn-out KP definition as the conflict there is of state oppression. There is no rebel army. The Robert Mugabe government and the army have also been charged of illegally using diamond revenue to fund the ruling party.
The US is pushing for a new KP mandate, and even issued a new definition of conflict diamonds for consideration at the Washington meet: "rough diamonds used to finance, or otherwise related to, armed conflict or situations of violence". This incorporates situations of violence perpetrated by other actors beside rebel groups.
Trade and Human Rights
Any move in redefining conflict diamonds would have verily rendered some countries - especially Zimbabwe, the country expected to be the largest producer of diamonds in the near future - vulnerable to KP sanctions. In fact, it is just coming out of a short period of a KP ban on exports.
Eli Izhakoff, president of the World Diamond Council (WDC), addressing the Washington meet, underlined the need to "ensure citizens of producer countries enjoy a fair share of the revenues generated from their diamond endowments". Sustainable development is now an issue. Izhakoff insists: "The KP, at its core, is a human rights endeavour."
The civil society coalition in KP, led by Partnership Africa Canada (PAC), has also been vocal about the reforms imperative. In a note on the case for KP reforms, the PAC says: "Conflict and criminality is constantly evolving...and the longer KP dithers, the more it cements public, and internal, perceptions that it is failing as a conflict prevention tool."
Once again, the US has engendered a complex situation. While the KP sanction on Zimbabwe was lifted in November 2011, the US imposed its own country sanctions against Zimbabwean diamond entities, creating an Iranian oil-like situation for India.
"We don't use Zimbabwean diamonds when exporting to our clients in the US," says Sanjay Kothari of the Mumbai-based Diatrends Jewellery and the vicechair of the GJEPC. "We are careful to use only diamonds from De Beers, or Russia and Australia."
When US Ambassador and full-time chair of KP, Gillian Milovanovic, visited Surat a couple of months ago, she reminded Indian diamantaires of the US sanctions, indicating India keep off Zimbabwean diamonds. It created an international row and she consequently maintained she had been misunderstood and misquoted.
An Indian government official familiar with KP bristles at the double standards of the West and wonders why they are selective on human rights issues. "They go after countries without the muscle to withstand them; all of this is getting politicised," he says, seeking anonymity. "Linking trade with human rights is not right."
India's Zimbabwe Edge
The angst in Indian government circles and the diamond industry is palpable. Although the share of Zimbabwean rough diamonds in India's import basket is 6 per cent today, these will become pivotal for the Indian cutting and polishing industry for three reasons. One, they are about 20 per cent cheaper than diamonds from other producers. Two, Zimbabwe is expected to be fount of diamond exports in the future. Its new deposits come in the wake of a decade of global drought in new finds.
Moreover, most existing diamond mines, globally, are nearing end of life. And three, in recent years, India has acquired an expertise in processing Zimbabwe's diamonds, with their unique characteristics. "It takes three months to get the final polished product from Zimbabwean roughs," explains Kothari. "With other roughs, it's just about a month."
The threat to India from China, emerging as a competing cutting and polishing destination also looms large. China has a workforce of 40,000, but has a lot of catching up to do in terms of skills and costs. In India, the cost of cutting a diamond is around $10 per carat. By comparison, it is $15-20 in China and around $100 in the US.

"Zimbabwean roughs can sustain the Indian industry in the near future and also ensure continued employment to our millions," says Kothari. He feels China can catch up with India in 10 years and it has the added advantage of direct access to roughs in Africa through its direct investments in mines.
Reforming the Reformer
The KP is under tremendous pressure from a variety of interest groups: diamond consumers, producers, polishing countries, and also a vocal set of civil society organisations pushing for responsible business and sustainable development. Global Witness, a founding member of the civil society coalition in the KP, resigned last year as it felt the initiative had failed to address the manner in which violence in diamond producing countries had evolved.
While KP members take positions and safeguard their interests, they are all agreed on one thing: the abject need for reforms. The KP, for instance, doesn't yet have a permanent secretariat. The initiative moves with the KP chair elected every year, now in Washington DC.
At the Washington meet, the US, therefore, tabled a proposal to outsource administrative support to the KP. Three think tanks were shortlisted: the Geneva Centre for Democratic Control of Armed Forces, the International Law and Policy Institute with the Extractive Industries Transparency Initiative, and the Foley Hoag CSR Practice. All three were rejected. "All of them look partisan to me," says the Indian official quoted earlier.
The stalemate continues till the KP meets for its plenary in November 2012, and will keep the $23-billion Indian diamond industry on the edge.
This article was originally published in the Economic Times dated 19th June, 2012, written by Naren Karunakaran & Ahona Ghosh, associated with the Economic Times Bureau.