Sri Lanka's apparel manufacturers see export demand holding up this year despite concerns about a slowing European economy, thanks to a focus on ethical manufacturing, factory investment, and the arrival of new international buyers. Sri Lanka's top apparel manufacturers were among firms showcasing their products at Sri Lanka's biggest post-war trade event, Expo 2012, recently in Colombo.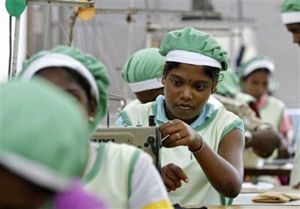 Organized by the country's Export Development Board, the Expo was aimed at raising international awareness of Sri Lanka's post-war export industries - and, of course, to attract export orders. President Mahinda Rajapaksa, who officially opened the event, said the large foreign investor presence was a vote of confidence in Sri Lanka. The Government also hosted the US-Sri Lanka Trade and Investment Framework Agreement (TIFA) talks in parallel with the exhibition, which allowed exporters to show their products to a top level US trade delegation.

Apparel - Sri Lanka's biggest export product - not surprisingly made a strong showing. Clothing and textiles accounted for 52% of total industrial exports from Sri Lanka last year in value terms and accounted for about 40% of the volume of total products exported. The industry expects a good year in 2012 with most companies reporting full order books for the next few months.

Brandix, Sri Lanka's biggest apparel exporter said export demand is expected to hold up despite concerns about a slowing European economy. "The first quarter of 2012 has been better than last year for a number of reasons," M Raghuraman, the Chief Executive of Brandix Market Watch, told, "Mainly it's because China is becoming more expensive and Vietnam is getting over-heated with manufacturers moving from China into Vietnam. So the overflow has been coming into Sri Lanka."

Although export data is only available for January this year, export incomes for textiles and garments have shown a 1.6% growth compared to January 2011. Last year, apparel and textile exports grew by 24% with export incomes of US$4.2bn. Brandix says at least some of the growth can be attributed to ethical manufacturing standards in Sri Lankan apparel factories. Although ethical positioning through the 'Garments without Guilt' campaign has not brought in higher margins for made-in-Sri Lanka garments, it has pulled in more orders. It has also allowed Sri Lankan garment factories to differentiate themselves in international markets.