There are numerous fruits and vegetables whose outer covering or peel is un-edible and so is discarded. In the present study an attempt was made to extract dye from the peels of litchi (Litchi chinensis) and then dyeing of protein and cellulosic fabrics namely silk, wool and jute was done. Different mordants were used to achieve a range of shades and to enhance the fastness properties.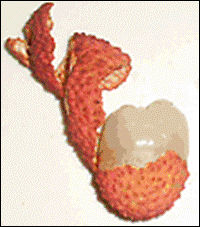 Series of experiments were conducted to optimize the different variables of dyeing which included time, temperature, material liquor ratio etc. A range of colour was developed on the fabric samples without and with mordant treatment. Dyed samples were evaluated for color fastness to light, washing, perspiration and crocking properties and results were found to be satisfactory. The study indicated that discarded peels can prove to be good source for dying textile material. Also, because only the discarded fruit peel was used for the purpose, its use will have no adverse effect on the bio-diversity. This kind of natural dyeing may have a great commercial potential which must be explored.
In spite of better performance of synthetic dyes, use of natural dyes on textiles is attracting more and more scientists for study now a day. Even consumers today, are aware of the benefits of an ecologically protected and health friendly environment and therefore are favoring natural substances over synthetic ones.
About Authors:
Ms. Avernita Srivastava is an Assistant Professor at the Apeejay Stya University in Sohna, Gurgaon.

Ms. Priyanka is a Lecturer at the Shri Ram group of College in Muzaffarnagar (U.P)

Dr. M.S. Parmar is the Deputy Director of NITRA, Ghaziabad