This work was carried out to evaluate the effect of the extracts of different Garad tree parts (leaves, seed and stem) on the physical and chemical properties of cotton fabrics.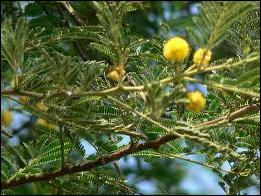 The treatment was mainly used to inhabit growth and to reduce survive of microorganisms on fabrics. However, the treated and untreated fabrics were subjected to mechanical and chemical tests. It has been noticed that the acacia extracts of all the tree parts have significantly (p<0.05) reduced tensile strength of cotton fabric, on warp direction. On the other hand the strength in weft direction of the fabric showed significant reduction (p<0.05) when leaves and seed extracts were used, while there was no significant differences noticed when stem extract was used. Tearing and breaking length properties on both directions (warp and weft) of the cotton fabrics showed significant reduction at level (p<0.05) for the acacia tree extracts. The color, washing and rubbing fastness properties of samples treated with acacia extracts recorded (3.5 scale) for each , which are slightly different from the results obtained by untreated sample (4 scale) .
Introduction
The increasing demand for comfortable, aesthetic, durable, functional, and safe textile products dictates the development of new and contemporary techniques of processing and designing textiles (Gupta, 2000; Tomsic et al., 2008; Heywood, 2003).
About the Author:
Fadl elmoula Abd alla Idris is a faculty of Textile Engineering at the University of Gezira, Wed Medani, Sudan.
"This article was originally presented at the 88th Textile Institute World Conference Shah Alam, Selangor, Malaysia, May, 2012".