Government is in the process of introducing a performance-linked incentive system for employees
In the coming appraisal season, the corridors of power will be abuzz with words typically discussed in hushed tones around corporate offices every April - variable pay and key result areas. The government is in the process of introducing a performance-linked incentive system for babus in several ministries this year.
A committee under Cabinet Secretary Ajit Seth has given the green signal to the plan to boost the government's efficiency by introducing variable pay for bureaucrats. The incentive would be determined on the basis of a department's performance on pre-determined annual targets. Departments would have to achieve these goals with lower administrative overhead costs, to make the scheme budget-neutral.
An effective mechanism for monitoring and evaluating performance was part of UPA-II's priority agenda as per the President's address to Parliament in June 2009. Government officers are presently paid a bonus on ad-hoc basis with guaranteed increases in salaries, giving them little reason to take any initiative or risks. This could change with the introduction of a variable pay component, which could boost officials' incomes by as much as 40% of basic salary.
"The government has now decided to introduce a performance-related incentive scheme on a pilot basis, which we hope to launch this year," the government's chief performance officer Prajapati Trivedi said in a recent discussion with human resources professionals from India Inc.
"Officers can't be expected to perform better if they are constantly berated... We can have the world's best evaluation systems, but if we don't have an incentive system, I am afraid we can't improve performance," said Trivedi, who serves as Secretary (performance management) in the Cabinet Secretariat.
Such a system was first recommended for civil servants over 25 years ago, when the Fourth Pay Commission suggested variable increments as a means to reward better performance by babus. The Fifth Pay Commission report submitted to the government in 1997 recommended another variable pay strategy - extra increments for the exceptionally meritorious performers with denial of regular increments for under-performers.
In 2008, the Sixth Pay Commission, by contrast, suggested a performance-related incentive system (PRIS) that offers a monetary perk over and above the salary for higher performance. "There is no external motivation for risk-taking and delivering a higher level of performance, because though the risk-taking is punished if things go wrong, it is not financially rewarded if things improve... Over the years, this has led to a culture where (government) employees have become risk averse," it had noted.
"The Committee of Secretaries under the Cabinet Secretary has deliberated on this extensively since 2009 and has now fleshed out the recommendations of the Sixth Pay Commission that were accepted by the government," said a senior official at the Cabinet Secretariat.
As per the plan, if departments achieve all their targets, they could receive as much as 15% of the cost savings. The secretarial panel has suggested a conservative beginning though the government could take a policy decision to pay out more incentives.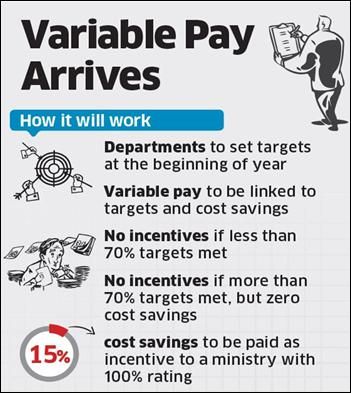 "For every rupee saved, we have proposed giving departments 15 paise. This way, officials would cut costs in their own self-interest rather than being preached idealistic measures for austerity," the official said, pointing out that the Expenditure Reforms Commission reports that have been gathering dust since 2001, had revealed a huge scope for cost savings in every department.
A strong linkage has been proposed between the results and incentives to prevent an obsessive focus on cost-cutting. "You can't save funds by not going to work and cutting electricity and travel costs," said another official privy to the CoS deliberations. "You must have good performance and must save money to have a chance of getting the incentive," he explained.
Drawing parallels between the appraisal system in the public and private sectors, Trivedi said that the subjective assessment of a boss is the bane of all appraisal systems as it tends to skew an employee's focus towards pleasing the boss rather than doing the job. "In government, such evaluations are more difficult as there are multiple principals with differing objectives, such as the minister, parliament, citizens," he said.
The reason previous suggestions to introduce variable pay for bureaucracy have remained on paper is largely this - defining performance has been tricky as it can't be linked to an easily quantifiable parameter like profit or sales. The government thinks it has cracked this part of the puzzle.
"The challenge has always been that there is no clear definition for government performance, so what do you link the incentive to?" said a secretary who was part of the CoS. "We have made a conceptual breakthrough that now makes performance measurement technically possible," he said
The breakthrough he's referring to is a performance management system known as 'Results' Framework Document' (RFD) that has been in place since 2009 and now covers 79 central ministries and 800 attached government offices. "Simply put, anybody who gets a rupee from the Consolidated Fund of India has to answer what they gave India in return by showing results," an official explained.
The RFD system hinges on departments setting targets at the beginning of each year in consultation with their ministers and the cabinet secretariat, with final nods granted by a high powered committee on government performance. Outcomes at the end of the year are compared with the objectives and a performance rating is assigned to ministers and their departments.
"RFDs, like key result areas (KRAs) in the corporate world, have defined performance as effectiveness. It is the ratio of action to promise, so if you do everything you promise, you get a 100% score," an official in the performance management division said.
"The system has stabilised now and there is a perceptible shift from the "chalta hai" attitude thanks to constant review of RFD targets," he claimed, adding that 4,000 officers have now been trained for the system.
Not everyone is convinced though. "Forget half-baked, this seems to be an un-baked, cock-eyed and frivolous idea," said former Cabinet Secretary TSR Subramanian. "Public projects (like airports or metro rail systems) and public policies like allowing FDI in retail take years to translate into reality. So how can you rate a department or official for them in a given year?" he asked.
"The government needs a service-oriented outlook rather than a corporate system that gives enormous powers to bureaucrats' political bosses," Subramanian said. "Moreover, since every government decision involves 10 departments, you can't reward one of them and punish the other nine," he said.
Another retired secretary who had worked under the RFD system for two years, said that the system could be easily obfuscated as civil servants are smart enough to set only those targets that they can achieve. "It's about making a convincing presentation about your performance, which most of us managed just fine," he said, requesting not to be quoted as he still works with the government in an advisory capacity.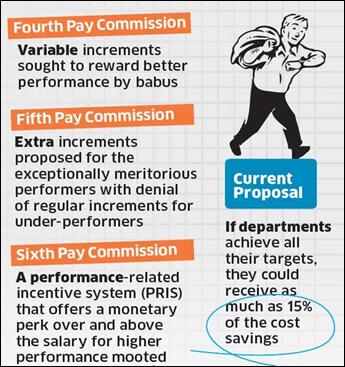 Officials admit that this is an issue. In the three years since the KRA system was introduced, most departments have scored 90% or more.
"There is a perception that attempts to quantify results have not been successful. Most officers expect to get a perfect score of 10 and usually get it," said a senior government official. "So we have a situation where every individual officer and department is rated excellent, yet the government's image is at an all-time low thanks to a grinding paralysis in decision-making," he said.
To fix this, the Cabinet Secretariat is working towards reforming the performance appraisal system further. For starters, all departments have been told to implement at least three recommendations of the Administrative Reforms Commission in 2012-13 to boost public perception.
This article was originally published in the Economic Times dated 9th July, 2012, written by Vikas Dhoot, associated with the Economic Times Bureau, New Delhi.