The trends forum has been a great success over the years. It offers carefully selected samples from exhibitors and manufacturers presenting trends for Autumn/Winter 2013-2014. They are representative samples of the major colors set to drive the season's key looks.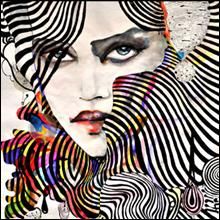 At the same time, it gives the head buyers and designers a clear overview of the new trends, colors and fabrics for the upcoming seasons. The themes of the trends forum are also extracts of the latest Evolution Guide 19 Fall/Winter 2013-2014 Trends which was released for the first time at Interfilière Hong Kong.
Structured:
Inspired by modernism in 20s, 50s and 60s, this trend is about the growing need for humility with regards to resources. The focus is on using modern technology for inspiration. Not only for comfort and construction, but also as an imaginary source. Pixels, fractals and the onslaught of 3D technology boggles the mind. Technology is translated into a new direction of beauty.
This article was originally published in " The Stitch Times" , June, 2012