Global luxury brands like Chanel, Christian Dior, Burberry put up sale signs to woo first-time buyers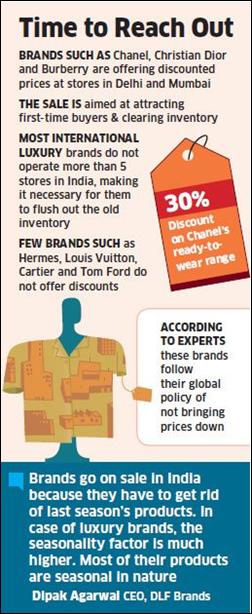 International luxury brands such as Chanel, Christian Dior and Burberry have started discount sales at their outlets in Delhi, Mumbai and other cities to woo first-time buyers as well as to clear inventory.
"Sale is a good way to bring down the entry point for the first-time buyers," says Roasie Ahluwalia, general manager (marketing), at Genesis Luxury that operates brands such as Giorgio Armani, Paul Smith, Bottega Veneta, Canali, Burberry and Jimmy Choo in India.
She says this strategy is particularly effective in a nascent luxury market like India. "Many of those who buy these luxury products at a 40% lower price end up becoming regulars," Ahluwalia says.
A CII-AT Kearney study recently observed, "End of season sales have played a good role in getting more and more Indians to get their first experience of luxury."
Even Chanel and Christian Dior, among the best-known luxury brands in the world, have put lower price tags on select products. Chanel offers 30% sale on its ready-to-wear section twice a year while Dior offers discounts on items such as clutches and shoes.
Marielou Phillips, spokesperson for Chanel in India, however, says the luxury brand uses the sales to reward its loyal customers rather than attract first time buyers. "Neither do we put up big signage at stores nor we give advertisements in newspapers. We simply put aside a few products and inform our regular buyers about the discounts," she says.
Industry experts say tempering sale of high-end goods in a slowing economy and limited circulation of products due to small number of stores in the country are forcing luxury brands to put the big labels on sale.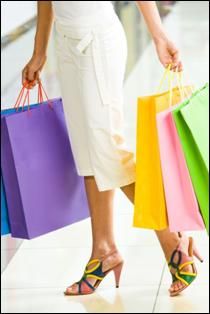 "Brands go on sale in India because they have to get rid of last season's products. In case of luxury brands, the seasonality factor is much higher. Most of their products are seasonal in nature," says Dipak Agarwal, chief executive officer at DLF Brands, which co-operates Salvatore Ferragamo stores.
Most international luxury brands do not operate more than five stores in India, making it necessary for them to flush out the old inventory. "A brand's ability to leverage inventory across stores goes down when it has a limited number of stores in a country," says Agarwal.
Dinaz Madhukar, president at DLF Emporio, a luxury shopping mall in South Delhi, says the number of shoppers increase 30% during any sale. "Even brands that do not go on sale benefit from the increased footfall," she adds.
An average two lakh people visit the DLF Emporio each month. The mall also does a lot of events like corporate tie-ups to invite potential customers for sale previews.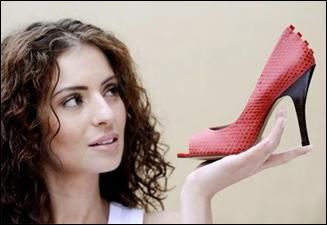 However, there are a few brands like Hermes, Louis Vuitton, Cartier and Tom Ford that do not offer discounts. "We do not go on sale," says a representative at a Louis Vuitton store.
Experts say most of these brands follow their global policy of not bringing prices down.
An executive associated with Tom Ford brand in India says, "Many brands also want to convey a message that each of their products is worth what a consumer is paying for. They do not want a customer who has paid more for the item to feel cheated when he finds that someone else has paid 30% less."
Fair enough, but such brands might be losing out on a certain class of luxury customers in India who buy luxury only on sales.
Abhay Gupta, founder promoter and CEO of Luxury Connect, which offers executive educational programmes on luxury business, says there are two kinds of luxury shoppers in the country.
"There are people who are brand loyal and spend irrespective of the price tags and there are those who wait for six months for the sales to begin," he says.
This article was originally published in the Economic Times dated 23rd July, 2012, written by Vijaya Rathore, associated with the Economic Times Bureau, New Delhi.
Image Courtesy:
luxuo.com

economictimes.indiatimes.com