Global luxury brands like Chanel, Christian Dior, Burberry put up sale signs to woo first-time buyers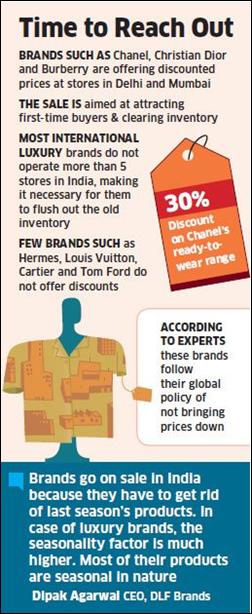 International luxury brands such as Chanel, Christian Dior and Burberry have started discount sales at their outlets in Delhi, Mumbai and other cities to woo first-time buyers as well as to clear inventory.
"Sale is a good way to bring down the entry point for the first-time buyers," says Roasie Ahluwalia, general manager (marketing), at Genesis Luxury that operates brands such as Giorgio Armani, Paul Smith, Bottega Veneta, Canali, Burberry and Jimmy Choo in India.
She says this strategy is particularly effective in a nascent luxury market like India. "Many of those who buy these luxury products at a 40% lower price end up becoming regulars," Ahluwalia says.
A CII-AT Kearney study recently observed, "End of season sales have played a good role in getting more and more Indians to get their first experience of luxury."
Even Chanel and Christian Dior, among the best-known luxury brands in the world, have put lower price tags on select products. Chanel offers 30% sale on its ready-to-wear section twice a year while Dior offers discounts on items such as clutches and shoes.
Marielou Phillips, spokesperson for Chanel in India, however, says the luxury brand uses the sales to reward its loyal customers rather than attract first time buyers. "Neither do we put up big signage at stores nor we give advertisements in newspapers. We simply put aside a few products and inform our regular buyers about the discounts," she says.
Industry experts say tempering sale of high-end goods in a slowing economy and limited circulation of products due to small number of stores in the country are forcing luxury brands to put the big labels on sale.