Adam's genetics have their own choices, preference, and styles. Not only are they discreet, but are also experimental. What does the fashion trends for 2013 have in store for them?
Men are getting equally fashion conscious like their female counterparts. With exclusively styled designer outfits, and patterns to go with the latest trends, men are having a wonderful fashion journey. Menswear apparel market is going through a phenomenal growth. Fashion gets transformed into personality expression, and the experimental nature of the youth fuels market for the same.
Menswear is a bit complicated as there is nothing much that can be created above the basic t- shirts, trousers, and denims. Still designers put in their creativity to come with novel ideas such as fabric innovations, washes, yarn blends and presentations. Fashion trends for men for 2013 will look easy and modern. Fashion cycles keep repeating, but men's wardrobe for the season is filled with innovative styles.
The Color Palette:
Hues both bright and pastel will rule the segment with the bright tones on colored suits, and pastel shades for designer pieces. Metallic shades will add a flash of inspiration. Shiny mohair suits and wintry colors such as granite and plum will be in fad. Bearing a resemblance to the Venusians the coming year's color palette will be assertive of vibrant shades adding dark and depth to subtle retro elegance of soft hues. Color choices of both the extremes would dominate the collections of fashion designers, and the general public. There would also be a feminine touch with floral prints, and embroidery. Burgundy or oxblood red, and autumnal berry shades will add depth to summer dressings.
The Fabric:
Innovative fabrics will be in trend with technical finishes adding shine and luster to the garments. Sheen shimmering fabrics will be in trend for men too. Menswear will display varying personalities ranging from illuminating metallic fabrics to subtle evening luster. Double breast suits will replace single breast suits. Military type coats, and outfits with gold braid, and buttons will be the trend. Menswear trend goes to display a vivacious personality with garments reflecting a blend of silver metal and midnight sky.
The Pattern:
Color Blocks: Color blocking involves tailoring garments with two or more fabrics of complementing shades together in a creative way, appealing to the eyes. Color blocked apparels are always the favorite of the masses. This year, the whole apparel will be color blocked. Brands such as Prada, and Moschino have created menswear in bright bold colors which would appeal even to the conservative fashionistas.
Bold Stripes: Runways of London, Paris, and Milan will be filled with different types of stripes for the coming year. Contrasting variations of color and style would be seen in the collections.


Dolce & Gabbana, Emprio Armani, and Salvatore Ferragamo have come with different angles of pin stripes. Stripes had been in fashion before, but this year's trend for stripes would go further from the shirts and t-shirts to trousers and pajamas' as well.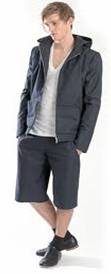 Masculine Florals: Floral prints make their way from women's wardrobe to the menswear segment making a new trend. Playful patterns such as faded florals, symmetrical flowers, and submerged prints will be seen on shirts, blazers, and t-shirts. Floral prints will be seen not only in a brighter note, but even on dull greys, rust, black and pale oranges. They can be seen in the collections of Gucci, Calvin Klein, and Balenciaga.

Short Pants: Suitable for summer clothing, short pants are seen much on the runways. Famous names such as Emporio Armani, and Dolace & Gabbana emerge in catwalks with this style. Much in resemblance to a formal pant cropped till the knee, this style of clothing goes well when combined with shirts, blazers, and t-shirts. Paired with the right choice of clothing and in appropriate colors, short pants will make a new extension of the nautical trend.
Many brands have a strong foothold in the menswear segment, with more brands making a beeline. While new trend keep popping every now and then, it is the time that will decide the power of the style. Overall menswear fashion is all set, and will see more evolutions in the near future as well.
References:
1. Apparel Online, July, 2012.
2. Weconnectfashion.com
Image Courtesy:
1. Fashionbeans.com
2. Swide.com
3. Stylesiren.ie