Harnessing the creative minds of young kids from NGO Aseema, Global Desi, a brand from AND Designs India, has come up with a collection which is not only unique in design but also inspiring. Available through Global Desi outlets across India, the collection features 16 exclusive designs which are an amalgamation of placement prints inspired by the drawings of four children from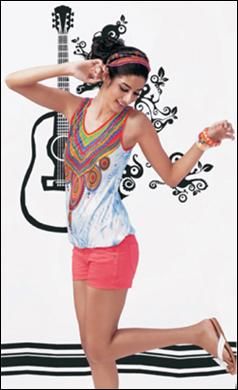 Aseema. The powerful aquatic theme is represented by Rajesh Jadiyar, Roshni Jadhav, Reshma Bahamaniya and Rubina Khan. These designs are themed with symbols of the aquatic kingdom that depict the adventurous and diverse water life using floating fishes, turtles, crabs etc. The colorful collection represents the free spirit and creativity of these children through its prints and motifs.

Speaking about the initiative, Sangita Rohira, CEO, AND Designs India says, "Visualizing the concept and getting it on paper then making the first garment was not so difficult because everything was printed digitally. But actual production was a marathon task. For instance, getting those elements together, the detailing of the fishes, the waves, the water background, the aquatic animals, getting the colours right. We have introduced a turtle story, a fish story and there is another print where we have mixed these two. And there is an underwater element where the waves and the fish are given an Indian touch. We wanted to make these four stories with the four paintings created by kids from the Aseema and we have used all the four paintings in a different form on each and every garment. "

AND Designs, is the brain child of designer Anita Dongre. She recently introduced a mens line under AND label. Talking about their future plans, Anita Dongre, Director says, "We have launched mens wear and kids and home will follow. I have three main brands -- Gobal Desi, AND and Anita Dongre. There are sub labels under Anita Dongre, which are Inter Prt and Grassroot. I have opened a new bridal wear store. I will also focus on accessories in all the brands now."
The company has around 40 exclusive stores and the collection is available at large formats like Shoppers Stop, Pantaloons and Lifestyle. A couple of these are franchisees and the rest are company-owned. "We are present in most metros like Bangalore, Delhi, Kolkata, Chennai, Lucknow and Belgaon. But we need more penetration in Tier III towns. We'd like to double the number of exclusive outlets in the next two to three years," says Rohira.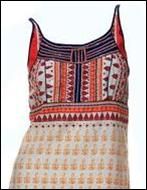 Having brands like Global Desi, And and Anita Dongre under its umbrella, it may look at launching exclusive and independent outlets for men depending on the response. As Rohira says, "We have crossed a turnover of ` 100 crore and are looking to grow. We also export in a small way and have a lot of buyers around the world coming over and showing interest. If we get a good offer, we would certainly open a store, say, in the Middle East, US and London. Maybe by next year, there should be a couple of them lined up.
This article was originally published in the Stitch Times, July, 2012.