Is impulse-buying good while shopping while shopping premium brands at a sale?
People may not love the rains, but monsoon sales are the favourite with most of them. It has almost become an annual ritual with people to shop for their favourite brands during the sale period that are otherwise too expensive to purchase. And the retailers are more than happy to cash in on this consumer frenzy.
Yes, it's once again that time of the season to go on a shopping spree and pick up stuff at discounts varying from 10 to 90% on your favourite products... be it apparel, shoes, bags or watches. Some people may even want to buy presents to give their friends through the year for birthdays, reunions and so on, and this year is no different.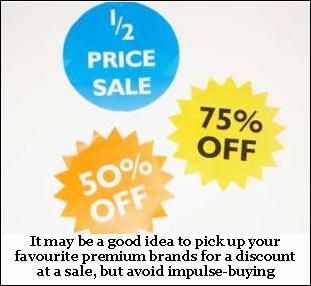 The economic slowdown hasn't cast its shadow on the so-called season's sales. Huge hoardings are visible at every busy traffic signal. But, one small nagging doubt: Is it a smart idea to shop at these sales? Sure, you save a lot of money, but does it make financial sense to shop as if there won't be another sale in this millennium.

"Year-end sales are a great time to shop from a consumer's perspective since you can get premium brands at a discount on such occasions," says Ram Gudipati, Manging Director, Brand Harvest.

"Do not indulge in impulsive buying and avoid purchasing high-value items in a sale. Ensure that the sale is genuine and you get value in what you are buying," says Devangshu Dutta, Chief Executive Officer, Third Eyesight, a consulting firm focused on retail and consumer products.
Check-List for a Sale Shopaholic

Check if the sale is genuine
There are many reasons behind an end-of-the-season sale. As a consumer, you need to understand if it works for you or not before opening the wallet.
"Due to the slowdown in the economy, manufacturers could not sell everything that they produced, resulting in a higher inventory, which they want to liquidate before the festive season sets in. A sale is one of the best ways to do it," says Arvind Singhal, Chairman, Technopak Advisors.