Redcolored sarees hold a lot of importance in Indian culture. It is associatedwith joy and celebration. It is also associated with valor. Wearing a red sareewas a privilege that was not given to everybody in India. Widows were notallowed to wear them. It was worn by brides during their wedding day. It hadsexual and emotional implications. It was usually worn during special occasionsand celebrations.
Buteventually red colored sarees came to be avoided in the country, especially inday to day use. There were many reasons for the same. The bright and eye catchycolor attracted unwanted attention. This was something that not many peopledesired, especially working women. Besides, it did not quite suit allcomplexions. People were gradually shifting to the use of other colors likepink, orange, even green and yellow during marriage.
Redcolored sarees saw a sudden uprising recently, though! It is easy to spot redcolored sarees in shops and boutiques. Women prefer to wear the color "red"in marriages and other special occasions, nowadays. Celebrities can be seen donningheavy, glamorous red colored sarees during get-togethers. The garmentsupposedly gets a sensuous look owing to the color. This makes the lady wearingit look more appealing.
TheIndian film industry has a huge role to play in this sudden uprising of redcolored sarees. Cinemas made during the eighties and nineties largely supportedwestern wear. Traditional garments were less flaunted as fashion clothing inthe cinemas of those times. Indian wear came to be seen as a fashion wearlargely during the twenties. Plain chiffon sarees in different colors,including red, were mainly worn by actresses in Yash Raj movies.
Inthe movie Ra.One, the item number by the leading lady of the movie, KareenaKapoor became the talk of the town. The film did not perform as expected on thebox office. But the item number was a huge hit. She gained immense acclamation forher red colored saree in the song. Kareena Kapoor herself and many otheractresses were spotted in bright red attires then after during socialgatherings.
VidyaBalan, a high grade commercial actress of modern times, is a strong advocate ofsarees on the silver screen. Western outfits could not bring her the successthat she deserved in all these years of her career. But her red colored sareein Ishqiya, 2010 brought her huge success overnight. Her saree clad body seemedmore sensuous to Indian audiences than that of other divas who had style,glamour, and a perfect figure!
Modern Indian women have also learned to accept red colored sarees for daily use. They agree to the fact that red colored sarees make them look sexy without being revealing. It brings out the curves of the body. Red colored sarees with green borders and blouses has become a part of the normal wear, nowadays. Red colored sarees with golden borders and prints are generally used for party wear.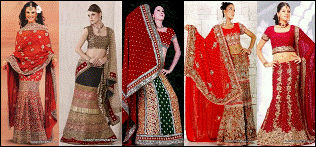 One can find red sarees in abundance in the market. Silk, georgette, chiffon, crepe, and cotton are the most common material used to make them. Silk and crepe sarees are good as a party wear fabric. Georgette, chiffon, and cotton can be used for daily use. A woman of any body shape or complexion is sure to look good in this apparel. If draped around properly, it can make an average woman look stunning.
Red colored sarees are also promoted by many designers in fashion shows. Designer Chandrani Singh Fllora made her show stopper, Pooja Mishra, walked down the ramp in a red saree during the Wills Lifestyle India Fashion Week. Katrina Kaif's red saree from Nakshatra Vivaah Collection Launch is remembered till date. Red sarees have been displayed at several international fashion shows held in India and abroad.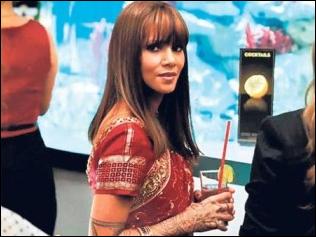 Sarees as such have gained international popularity. Red sarees are worn and promoted by many international celebrities, as well. The famous Hollywood actress, Sadia Jules, was spotted in a red saree. Daniella Kingsley, Hollywood's style icon, has also flaunted a designer red saree in a public gathering. Oscar award winning actress, Halle Berry, is reportedly wearing a red bridal saree in her upcoming movie 'Cloud Atlas'.
Speaking to Nevanta.com in an interview, the noted fashion designer, Prakash Bidapa commented, "Saree is a garment that hides all errors. Whether you are fat, thin, or medium, the saree will prove to be a flattering garment. It is because this six yard of unstitched fabric allows you to drape it in myriad ways. Indian women have always portrayed the culture of India by wearing beautiful sarees."
Red sarees caught the Indian fashion industry by surprise. It made a sudden comeback. Predicting if this trend of bold and beautiful sarees will last long is a hard task. It may continue to be in wardrobes for years together, or it may vanish in thin air after some time. But as for now, they do hold a special place in the Indian fashion market.
References:
Funonthenet.in

Indian-accessories.com

Zimbio.com

Zeenatstyle.com

Nevanta.com
Image Courtesy:
Fillum.com

Subahethnicwear.com

Twylah.com