(Views expressed in this article are the personal opinion of the Author, a narration of their experience.)
Introduction
Cochineal is probably the first dye that comes to mind whenever we think of Mexican natural dyes. Although Oaxaca exported this dye in large amounts during most of the Colonial period, its production has significantly decreased.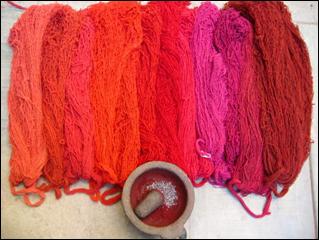 Fortunately, there still are some people that want to preserve the tradition of the "cultivation" of cochineal. This paper will focus on the similarities and differences that exist between the cultivation process of cochineal in Colonial and contemporary Oaxaca. Coming from the Museo Textil de Oaxaca (the Textile Museum of Oaxaca), we feel like we are paying tribute by means of this paper to all the relentless souls that have been preserving this tradition.
It was a task in itself finding contemporary "cochineal farmers". We already knew of an important center: Tlapanochestli (meaning "colours of the cochinea"l), located in Santa María Coyotepec, 10 km away from the city of Oaxaca. This place opened fairly recently, in 1991, under the direction of Ignacio del Río. Prior to the establishment of this center, there was only one hint as to where to obtain cochineal in Oaxaca, in the area of Ejutla, southern Oaxaca.
This article was originally published in the 12th Biennial Symposium, Textile Society of America, 2010.