Textile industry is now getting conscious of the negative impact of the pollution it is causing. Awareness about the hazards caused by chemicals used in various processes have resulted in using organic fibres, and recycled polyester. This led to the rise of common jargons like Eco or Turning to green. Transition to green simply means adopting an environmentally friendly lifestyle and herbal dyeing is one among them.
Herbal Dyeing
Herbal dyeing or technically, natural extract impregnation into textiles is a part of 5000 years old system of Vedic health care which supports the core concept of Ayurvastra natural healing provided by clothing. These fabrics are infused in ayurvedic medicinal solution (kashayam) and its properties are permanently encapsulated to the fabrics having various health benefits. Herbal textiles are a perfect amalgamation of cloth and wellness; this unique fabric incorporates in itself the rich Indian culture with health benefits.
India is known from time immemorial for natural dyeing expertise. Natural dyes are known for their soft, lustrous colors and endurance. It also retains great beauty and charm for long term. In herbal textile all kinds of hues of reds, yellows, browns, orange and greens can be made from stem, wood, leaves, fruit, seeds etc .
Dyeing Process
After bleaching organic cotton in natural solutions like cow urine etc, dried in sunlight. Before dipping into natural concoction of plant extracts, a natural gum is applied on the fabric. The fabric is left to dry for 3 days and then kept in a room for a definite period of time that allows the fabric to dry completely and the extracts to settle in to the fabric. It is then washed, dried in the shade, and seasoned further.
Wellness Textiles
As Ayurveda suggests various ways of disease treatments like steam bath, massage, oleation, sweating, heating and so on for various ailments with different herbal concoctions, as the basic principle is that the extracts have to be in contact with the skin. In our present busy world, these potential methods are not much explored mainly due to the time limitations and stringent practices. This lead to the rise of new branch of technical textile called Wellness textiles.
As per the experts, by coming contact with herbal cloth, body loses toxins and the metabolism enhance like in case of microencapsulation technique. As skin functions as the protective barrier but also as a conduit for outside substances to enter the body, same way skin also absorb medicinal molecules from textiles and result in improved resistance against harmful substances.
Some of the Ayurvedic herbs selected for dyeing for wellness fabrics are: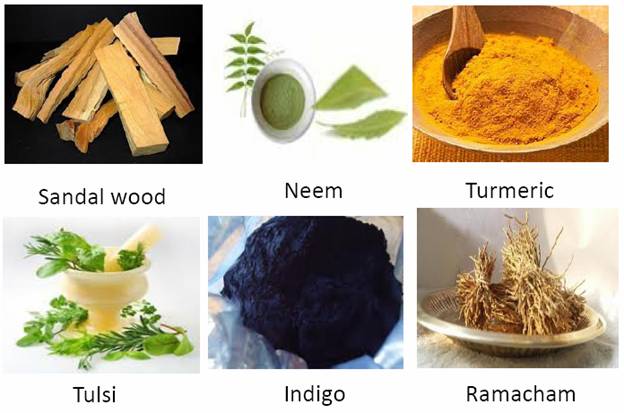 Sandalwood: It retains its fragrance for decades and provides cooling effect. It retains its fragrance for decades and provides cooling effect.


Neem:This herbal dye would help to fight against various skin diseases.


Neela Amari or Indigo: This herbal dye this would help fight skin disease.


Ramacham or Cuscus Grass: If garment is dyed in this dye this would help fight asthma disease.


Turmeric/Tulsi: Used for garments having sleep enhancing benefits etc.
Conclusion
Ayurvastra believes in restoring the balance within the bodys system and strengthen the immune system. The various herbs used have well proven antimicrobial and other medicinal properties. Various emerging brands like Ayurvastra, Ayurganic etc are developing herbal textiles can resist and fight against diseases.
Natural extract impregnated wellness garments are hoping to tackle various diseases like hypertension, heart ailments, arthritis, asthma and diabetes with the herbal dyed bed linens, mattresses, healing herbal blankets, sun white towels, comforting apparels, aprons, night wears and so on. As the waste generated during the process also can be efficiently used as fertilizers, wellness fabric is purely a green technology that definitely soothes our souls.
Acknowledgement:
HLWDS, Kerala; Omved; Central Institute for Research on Cotton technology (CIRCOT).
About the Author:
Ms Veda Krishnan is a Scientist (Biochemistry) at the Indian Agricultural Research Institute (IARI), New Delhi.