Honorable President Barak Obama celebrated his re-election, while the world is positively waiting; hoping that the coming four years would be different from the past four years. This is because the leaders of the two parties wish to work together. How much would the global textile sector be benefited out of this?
Fibre2Fashion had earlier covered President Obama's trade policies and its Impact on the global trade when he was elected in 2008. &sec=article&uinfo=<%=server.URLEncode(4475)%>" target="_blank">Click here to view the article.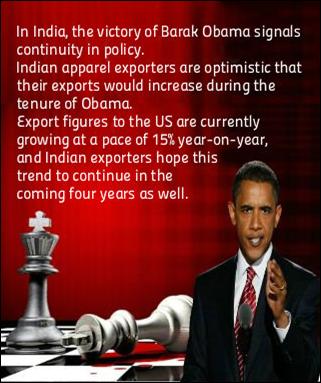 Many things are lined up to be taken care of, like the expiry of George W Bush tax cuts by the end of December to self-imposed sequestration cuts likely to be imposed. The President's inspirational speech soon after his victory called for the members of the Congress to tackle difficult issues facing the country. Tax policies are of significance to small business owners as most of them declare their business incomes on their personal tax returns. During his campaigns, the President said that he would extend his support to the Bush era tax cuts. Ending the Bush era cuts will increase the top tax rate of wages and salaries up to 39.6%.
In India, the victory of Barak Obama signals continuity in policy. The relationship with India and US is important. US considers India as a valuable strategic partner. Indias interest to work with US and other Asian countries forming a balanced economy, and Asian architecture lies in the country's sole policy determinations. Indian apparel exporters are optimistic that their exports would increase during the tenure of Obama. Export figures to the US are currently growing at a pace of 15% year-on-year, and Indian exporters hope this trend to continue in the coming four years as well.