A marketing strategy that includes an element of surprise and out of the box ideas to attract the target audience. Apparels retailers are going in for Guerrilla marketing strategies to make an effective brand presence, thereby enhancing their profit margins.
The very first advertisements were made by the ancient Egyptians in 4000 BC who used papyrus leaves to create wall posters, and send sales messages. During earlier times, advertisements focused more on educating the customer rather than entertaining or creating an interest in them. Later during the 80s and 90s, competition became intense, and retailers had to focus on innovative techniques. Customers buy the perceived value of merchandise. It was time for a change.
Retailers use alternative advertising strategies with unconventional styles, imagination, and high energy. Guerrilla marketing is one such effort which takes the customer by surprise, creating a deep-rooted impression in their minds. In simple language it means applying unconventional methods of communicating with the target audience. The term was coined by Jay Conrad Levinson. Roots of this strategy can be traced back to guerrilla warfare that applies atypical tactics to fight for their goals in an unforgiving environment.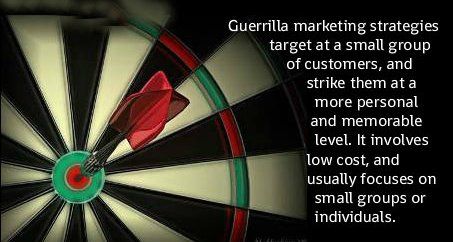 Guerrilla marketing strategies target at a small group of customers, and strike them at a more personal and memorable level. It involves low cost, and usually focuses on small groups or individuals. It does not follow a long and straight line of advertising. On the contrary, it follows crooked and circuitous strategies. Enhanced profit is the success indicator of this marketing campaign.
Types of Guerrilla marketing:

Viral marketing through social networks

Presence marketing identifies a customer upon entry to retail establishment

Tissue pack marketing hand to hand marketing

Alternative marketing targets specific neighborhoods, age groups etc

Ambient marketing - placing advertisements on unusual items or in unusual places

Grassroots marketing connects with a products most logical potential customers at their places of work

Wild postings - placing advertising posters or flyers

Under cover marketing product placement in a subtle manner

Astroturfing disguising company messaging as an authentic grassroots movement

Experimental marketing interaction with the product

Wait marketing done in the places where customers wait; such as petrol pumps
Apparel Retailers opt for Guerrilla strategies: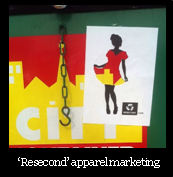 Clothing retailers come up with novel ideas to present merchandise to their customers. Second hand store Resecond of Copenhagen uses small little stickers to promote their merchandise. Apparels are featured in the cutout, with the background color giving it a nice pop. These techniques are followed by both big and small brands. While small brands choose it for cost cutting purposes, big and well established brands use it to complement their advertising campaigns.
Branded shopping bags are used by retailers for advertising. Guerrilla marketing techniques have morphed this method into a more adventurous one, which works well for apparel retailers. Rather than adding the name of the brand or the logo they place print advertisements in the bags. Habitat Boutique of Kansas uses this type of bagvertising to promote its classic shoe collection.
Retailers start pop up clothing stores to deal with high rental costs. Customers who prefer to buy low priced fashion apparels find these stores interesting, and fun to shop in. They also run contests, and prizes are given by the clothing manufacturer connected with the target audience of the product. Costs of promoting the contest are limited to entry forms, coupons or posters. Social media platforms are used for creating a buzz about the contests, along with emails and other viral options.
Fliers are used to reach a complementary target market. Arrangements are made with other store retailers. Inexpensive fliers, purses or other cosmetics are printed, and kept in prominent position in their stores, and in return same promotion can be offered in the first retailers store as well. This will appeal of the customers while avoiding direct competition.
Despite all the appeal, much care has to be taken while adopting these techniques. In some instances, they can flop and become a PR nightmare. This mostly applies to big brands that spend a big budget for their advertising campaigns. Small brands usually pump in less money, and so their failure will be written off as another failed stunt, without much publicity.
Guerrilla marketing strategies create a far more valuable impression in the consumers mind comparatively over traditional forms of marketing. It builds a far more valuable impression in the customers mind creating copious social buzz.
References:

Blog.guerrillacomm.com

Creativeguerrillamarketing.com