The Government of India has levied anti-dumping duty on partially oriented yarn (POY) imports from China. The imposed duty is expected to remain for five years until revoked earlier.
Polyester Partially Oriented Yarn, much commonly known as polyester POY is a primary form of polyester yarn. It is made by spinning polyester PET chips or flakes. POY yarn is subject for further processing such as texturising or draw twisting so as to make it suitable for further knitting or weaving. Polyester yarn is used for making belting fabrics, polyester type cord fabrics, zipper fabrics, hose, conveyer, threads, solid woven fabrics and many more.
The Government has imposed an anti-dumping duty of $545.22 per tonne on all POY imports originated or exported from China. An official notification by the Finance Ministry, Government of India dated 2nd May, 2012 states, "The anti-dumping duty imposed shall be levied for a period of five years (unless revoked, superseded or amended earlier) from the date of publication of this notification in the Official Gazette and shall be payable in Indian currency."

The Government with an effort to restrict the flooding of yarn imports from countries such as China, Malaysia, Korea, Chinese Taipie, Thailand, and Indonesia imposed the anti dumping duty. The finance ministry imposed anti-dumping duty from 5% to 16.90% on all kinds of imported yarns. Resultantly, yarn prices have increased by 30% for a kilo.
Indian textile industry contributes to 40% of the countrys demand for man-made fibres. It employs more than 6.5 lakh powerloom machines weaving 3 crore meters of cloth a day, and a yearly consumption of 6 lakh metric tonnes of various yarns and fibres. Government's anti-dumping duty has cast a shadow on the weaving sector which is mainly dependent of various types of synthetic yarns.
Yarn importers devise circular route: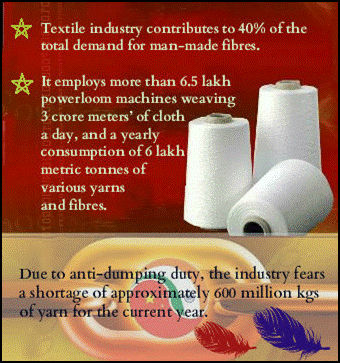 Yarns manufactured in China costs 20% lesser than the ones spun in India. This include nylon filament yarn (NFY), viscose filament yarn (VFY), polyester yarn (POY), and polyester filament yarn (PFY). Imposing of anti-dumping duty has made the domestic players to increase the yarn prices, at a time when the demand in the local market has also increased. As imports from countries like China has become costlier, domestic spinners are taking advantage of the anti-dumping duty.
While the Government imposed anti-dumping duty on various segments of synthetic yarn such as nylon, polyester, and viscose, and spinner are hiking the price, importers are adopting various techniques to evade payment of duty. Yarn from South Korea is shipped through US to avoid payment of anti-dumping duty.
Recently containers were seized by the Directorate of Revenue Intelligence (DRI) from the Mumbai port with fake certificates regarding the country of origin. Raids conducted on the places of yarn importers revealed tonnes of imported yarn from countries like South Korea transported through the US just to skip the anti-dumping duty.
The Apparel Export Promotion Council has expressed apprehension over the Government imposed anti-dumping duty, and the increasing yarn prices. It has advocated for a removing the duty completely. AEPC website quotes its Chairman Mr A Sakthivel writing to Shri Anand Sharma, Union Minister for Commerce, Industry & Textiles. The AEPC Chairman remarks, "Unfortunately in the last few months, we have experienced volatility in the price of cotton yarns. While cotton has gone up by about 3% to 5% in the last 2 months, yarn prices have increased to 15%+ in the same period of time. As a matter of fact, Indian cotton yarn prices are higher than the price from other countries such Pakistan, CIS countries, etc." The industry fears that textile players would run short of approximately 600 million kgs of yarn for the current year.
Textile industry believes that imposing anti-dumping duty would distort the operating environment and affect the industry performance.
References:

Government of India, Ministry of Finance, Notification No.22/2012-Customs (ADD), dated New Delhi, dated the 2nd May, 2012, cbec.gov.in.

Timesofindia.indiatimes.com