The models, who appeared for the coveted Miss India pageant, not only paved way for their own future, but also changed the face of Indian fashion.
Fashion is a dynamic industry. The face of Indian fashion industry is changing dramatically, and there is a sudden exposure of fashion in the country. India is now competing among other leading countries placing itself on the map creating its own identity of fusion. Fashion trends that appear under the spotlight are always sought after. Recent Miss India pageant set wit and whimsy tones for varied looks. Designers expressed their freedom with creativity, the inspiration found in exoticism and history. Blasts of neon hues, lazer cuts, sugary pastels, and juicy brights made patterns mixed into a fiesta.
Hues:
The contestants showed off trends in an alluring way. Skinny printed pants, and colorful jackets filled the runway. Golden shimmer radiated throughout the show, from theme to the apparels in the clothing of contestants. Mixing colors is an easy way to look trendy. Lavender with white and red combination, checked pants, plaid prints and color blocked apparels are easy and stylish trends to be followed.
Bold hues of tangerine, bright red, electric blue, fresh limes, and alpine green were in trend. Pastel shades were also used in contrast to the brighter shades. Many fashion shows have incorporated neon shades into the clothes of their models. From tunics, kaftans, skirts, and saris, alluring hues of neon will be in style, taking inspiration from the show.
Trends inspired by Miss India 2013:
Color details and neck lines will be in vogue. Assortment of shades in a creative way plays a defining role the finishing of the garment. Models flaunted the ramp with checked pants and color blocked apparels. The color palette of nature consists of an assortment of the blue hues of seascape, captivating hot red, and the greenish lush of a jungle. Fashion savvy designers feel the delicate interaction of these shades, and bond them with pieces of fabrics bringing an appealing look to the garment. Color blocking apparels will be in fashion taking inspiration from the event.
Brand Max has launched a new clothing line inspired by the Miss India pageant. This high fashion for Indian women is inspired by the golden jubilee celebration of Miss India this year. Glamorous preppy dresses, pants, tops, and other latest trends ruling international fashion were seen on the ramp. Shimmering white and gold dresses adorned the ramp, setting new trends for the hues.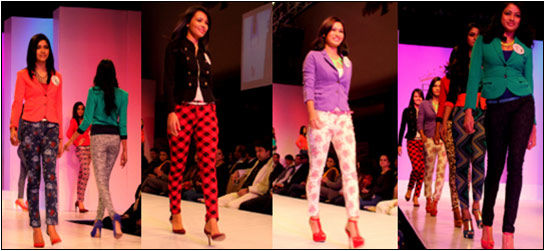 Indian fashion has got a wider platform to display its creativity and introduce sari to the world. In the cocktail round, during the event, the contestants captured the audience in beautiful saris. With fashion evolving as an art, traditions are no longer strictly followed. An eclectic mix of vintage style, and contemporary art, sari is now seen on ramp shows with creative draping styles, making it an enviable outfit. Earthy and yet modern, most eye catchy trends will be in vogue for the coming season taking its inspiration from the recent contest.
Miss India pageant has proved its worth as a trend setter and shines at the global arena in terms of ramp shows, and setting new styles.
Image courtesy:
Weddingsutra.com

Maxfashionindia.wordpress.com