There was a time when it was a skinny girl's world and a slender look always won. But gone are the days when fashion was restricted to the skinny and petite. The world is getting smaller but people are getting bigger. Designers and retailers from across the globe are adapting them to the changing sizes and are determined to dress the world's expanding waistline.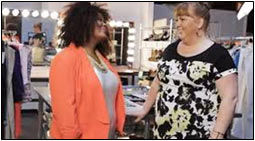 One would think that USA would be the leader in plus size fashion. But Australia was the first country to take notice of the changing scenario in 1994. Plus size fashion has a whole other meaning in Australia. Size 12 in Australia is considered to be the starting range of plus size which is equivalent to US size 8. Australia has a number of plus size clothes across the continent and supple fashionable garments in a variety of sizes. Australia has the maximum number of stores that deal exclusively in plus size clothes, regular as well as designer. In fact, Australia is the only country which has its very own magazine targeted at plus size fashion.
USA on the other hand has also been embracing plus size fashion for a very long time now. According to the Centre for Disease Control and Prevention, more than one-third of American adults are obese or overweight and one-third makes good enough population for designers and retailers to their needs. Thus, American designers are now not only targeting the petite, but also the curvy. It has been found out by experts that a majority of women wear plus size, which is size 14 or above according to American standards. This accounts for more than 30% of the sales in the country. Hence, the increasing market and the increasing number of plus size boutiques. Plus size fashion industry in the US has reached such magnitude that it is expected to grow another 5.2% in the next five years. By 2017, it is estimated that this industry will hit $9.7 billion from $7.5 billion in the current year and $6.6 billion in the year 2009.
But the expansion of this industry in the US doesn't stop here. Plus size fashion has taken over the runway as well. Various plus-size-only fashion shows and events have become popular over the past few years. New York, Chicago, Atlanta and Los Angeles are some cities that have hosted successful plus size fashion events in the past years. These events have not only popularized plus size fashion but have also attracted a number of buyers and contributed greatly towards the increasing market for plus size fashion.
UK is also following the same path and hosted its first ever plus size fashion show in London in the year 2012 and there has been no turning back since. In UK, there has been an increase of 47% in plus size womens wear in the past five years. This accounted for 4 billion in 2011 and is expected to reach 5.7 billion by the year 2016. Over the last five years, the market for plus size mens wear have also increased 7% and is expected to reach 13% by 2016 accounting for 2.2 billion. Plus size fashion in UK is dominated by a variety of brands offering high end luxury and regular apparel. These brands also have their base in countries like USA, India and China. It was found out that one quarter of womens clothes sold in UK in the year 2011 were plus sizes, particularly size 18 and above. The amount of money spent on plus size clothing also increased by 6% in the year 2011 accounting for 4.9 billion.
India, however, is lagging behind as compared to other countries. The market for plus size apparel is increasing but it is still not at par with other countries. Plus size fashion in India is usually seen as only bigger sizes but they might not necessarily but in sync with the latest fashion trends. Nevertheless, a number of Indian brands are now also catering to the plus size needs of people but India still has a long way to go.
The size and frame of the average person has increased through the years due to changing food habits and atmosphere. In some case this has also lead to obesity which has pushed people to turn their head towards plus size fashion. The demand for differently designed and produced clothes has increased over the years. This increasing demand for plus size apparel has now urged designers and retailers to step into the plus size game. There was a time when plus size clothes were difficult to find. But now, every mall and every market offers an array of designer stores as well as boutiques catering to plus size fashion. The growth of the plus size fashion industry has been phenomenal over the past couple of years and going by the current trends, this industry is likely to thrive in the future.
References:
1. Mintel.com
2. Nytimes.com
3. Wikipedia.org
4. Independent.co.uk
5. Articles.latimes.com
6. Marketresearchworld.net
7. Articles.chicagotribune.com
Image Courtesy:
1. Shop.nordstrom.com
2. Rise1961.net
3. Mid-day.com
4. Plussizeclothingonly.com