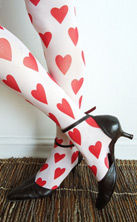 Stockings are the new fashion statement of the millennium. For some it is just one of the clothing in the wardrobe while others may find it as a piece of accessory that adds glam quotient to their attire. Pair it up with anything like skirts, tunics, dresses and you are sure to add a magic touch to your personality. Stockings are available in various colors, prints, fabrics and have become the flavor of the season.
This new fashion accessory is a must in every woman's wardrobe. Stockings are also known as hosiery or hose even known as Nylons, used to cover the legs and feet. Apart from the usual black, beige and ivory, this season brings some attractive colors in the stockings that will look stylish and stunning. This gentle attire can be worn almost with all the garments. Many international celebs like Rihanna, Lady Gaga, Beyonce Knowles and Victoria Beckham have sported it at events and have become the talk of the town.
Today women are open to experimenting with their looks and attire. Earlier stockings were seen as utility clothing but now with changing times, it is looked at as an attire to raise your style quotient. It is important to wear it with the right garment. If the dress you are wearing is dark, pair it up with bright color stockings. Darker the tone of stockings, slimmer will be the look.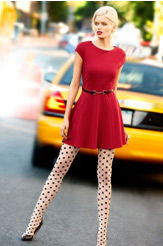 Stockings with lycra are always well fitted and easy to slip on. Pair up your red dress with classic black colored polka doted stockings and you will have all eyes popping. Wear the right pair of heels to complete the look. This pair of clothing can be worn to work, parties or any special occasion as it goes well with any event because of its versatility and eternal charm.
A wide range of stockings are available in the market. When talking about different types of stockings, it is necessary to know about its kinds and knits. From sheer stockings to glossy or classic stockings, you can avail anything to style up your persona. With funky opaque stockings flaunt your legs without actually showing off anything. It's also a good option to remain stylish even in winters.
Fishnet stockings are very popular and give the wearer a sexy look. It can be worn with any outfit and are available in standard black, bold and trendy colors. Besides, one can buy the latest designer stockings to become stylish at a snap and available in attractive designs. If you want to get noticed, adorn fashion stockings available in the trendiest styles. To enhance your legs, one can find stockings decorated with bright stones, lace, bows or zippers even ripped. It's a sure step to look exceptional at any event.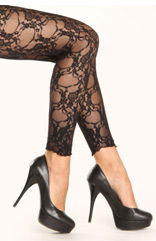 In addition, there are sheer stockings that are easy and comfortable to wear. They are apt to go with office wear or a night out and a definite way to make your legs look great. If you wish to try something different go for lace stockings that will look chic and sensuous. With so many latest designs available in lace stockings, you cannot stop from getting noticed.
Generally hosiery is measured in 'diners' which shows the thickness of the fiber and 'gauge' represents the number of stitches in a line. Therefore, as long as the fabric is pure nylon, lesser the diner number, finer the stockings. Moreover, stockings are made with different kinds of knits. Like the regular flat knit, earlier this knit was used to make stockings which were soft and smooth. In addition, there are other types of knit like 'Kant run', Micromesh, Pebble mesh and Textures.
You will be surprised to know that this pair of clothing was introduced about 400 years back in 1589. An English churchman Rev. William Lee invented the first knitting machine. At that time they started making hosiery from cotton, silk and wool. The machine was very valuable for the country to the extent that the queen declared death penalty to anyone who tried to export the machine.
In that era stockings were worn in different ways. Sometimes a number of silk stockings were worn to protect from cold. In the 17th century when big boots were in fashion, linen overstockings were worn to protect the silk stockings worn beneath. Till the end of 18th century men used to wear silk stockings but later long trousers were in trend and hence stockings were replaced by socks and have been worn since then.
Long silk stockings bounced back in fashion after the First World War when short skirts became fashionable. Women had access to cotton stockings too. With the invention of 'Dupont Nylon' fibre, the dominance of silk stockings faded away and Nylon stockings came in vogue after World War II.
It is said that when the first nylon stockings were made available in New York stores in the year 1940, it became an instant hit and over 72,000 pairs were sold on the very first day. Thereafter, in the first year of its release almost 64 million pairs of stockings were sold and the producers were unable to meet the demand of the people.
In the 60's modern 'reinforced heel and toe' (RHT) flawless stockings came into the scene. These stockings are without any break or disruptions as they are made by tightening the stitches on a circular knitting machine. Later when women wore very short skirts, stockings went at the backstage and tights were more preferred. The stockings almost got vanished as pantyhose gained popularity. Fortunately, they are back in fashion in the 21st century to accentuate the woman's figure.
At present stockings are made comfortable and accessible at all apparel stores. They are the hottest garment in town to spice up a womans look. It is the easiest way to make your legs look great by teaming up your attire with the right kind of stockings. Fashion stockings have become indispensable part of womans wardrobe to fire up their style quotient.
Reference:
1. Indiatoday.intoday.in
2. Thechicfashionista.com
3. Tights4u.com
4. Stockingirl.com
5. Oldnylons.com
Image Courtesy:
1. Pinterest.com