The fibres are spun into yarns or into woven, non-woven or knitted fabrics. Flocking is another technique, wherein the fibres are reduced to fine powdered particles. It is used to give a decorative and soft finesse to products. The finished products are used in fabricating garment lining, home textile upholstery, for insulating and sound absorption in automobiles, carpeting, and toys.
The second method is the chemical process. It is used to melt polyester and polymer fabrics. The garments are first cut into small pieces, converted into granules, and then melted. These melted chips are spun into fibres to make new polyester. This form of textile waste is used in felts, furniture stuffing and padding. Materials that have come to end of their life are used for wiping and cleaning as rags. And materials that cannot be recycled and degraded for further use got to the landfill. The material is dumped here to be burned or dissolved with chemicals, resulting in pollution.
Diamonds are clothes that are vintage, have high value, belong to a particular brand or style and have a huge market. These clothes earn the highest profit in the post-consumer recycling textiles category and also include haute couture. Certain luxury fibres such as cashmere and camel hair are used by clients to make sweaters and blankets. Luxury leather goods such as Louis Vuitton, are pursued by American customers in the Diamonds category. While the Japanese are interested in American high end brands like Tommy Hilfiger and Ralph Lauren.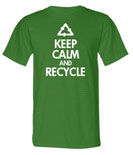 Recycling in textiles is vital in providing new resources, employment in the sector, and promotes the idea of charity. Recycling also reduces the emission of carbon dioxide as compared to that of manufacturing virgin materials.
The textile industries around the world need to take the efforts to recycle the amount of waste that they produce. An organized post-consumer recycling system can benefit the environment in a big way and at the same time be economical. Fashion should go hand in hand with bio-degradable, sustainable, and recycled clothes.
References:
1. Bir.org
2. Smartasn.org
3. Co.anoka.mn.us
4. Indiantextilejournal.com
Image Courtesy:
1. Alltexrecyclers.com
2. Ecoble.com
3. Customizedgirl.com
4. Arabnews.com