When it comes to looking flawlessly perfect, size always matters. For a long time, custom fits and skin tight clothes have been in power in the fashion scene. But the latest trend is to go loose. It is time to bring out all baggy t-shirts, slouchy coats, and slightly big dresses that have been hidden in one's closets for such a long time. Oversize is stepping up this season, especially for fall and winter collections, for both men and women.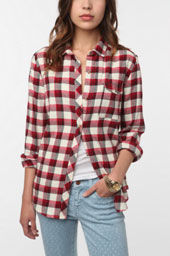 Oversized clothes if worn in the right way can also look just as chic and smart as the trendy ones. These clothes were seen on the runway and collections with large shirts, tunics, skirts, pants, jackets, and dresses were showcased by designer labels like Gucci, Balenciaga, Chloe, and Moschino. Oversize is breaking all the fashion rules and is making clothing comfortable. Now, one can gorge on their favourite dessert without having to worry about fitting in to a dress.
Sizing up is the new fad, than sizing down. But the key to standing out even while wearing an oversized garment, is to wear it right. For women, looking the part is like merging tomboyish with feminine. There are a lot of options one can experiment to supersize and still look stylish. One thumb rule, when it comes to going big is to keep the bottoms slim with tights, stockings, or fitted trousers, when the top is bulgy. And on the other hand if you choose to wear bulky bottoms like balloon skirts, flared palazzo pants, or Bermuda shorts, then keeping the top fitted will help balance the act.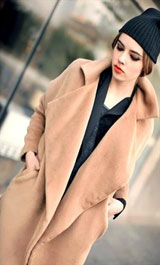 There are plenty of options to splurge on. For women as far as tops are concerned they can choose from boyfriend shirts, buffalo plaid ponchos, big sweaters and jackets, slouchy t-shirts, oversized cardigans, and blazers. Big and long denim vests are a must have. In fact, oversized men's coats are the next big thing for the upcoming fall/winter; Trussardi, Chanel, Michael Kors, and Christopher Kane created interesting closures in neutral and dark shades for this year's runway collection.
To add a little shape and structure to the garment, accessorizing with a belt or tucking the top in would do the job. Petite women should stay away from oversized bottoms and instead vouch for bigger tops. Fully figured women must not pick anything too wide, as this will work against them.
With oversized clothes, less is more. It is better to keep accessories to a minimal and instead of shoulder bags and totes, opt for cute clutch bags. Keeping footwear simple and not going over the top, with chunky and grungy boots, will enhance the silhouettes of the attire. The oversized trend is slowly catching up and one can find big clutches, watches, hats, earrings and bags.
The men's fashion is also buzzing with oversized clothes. Larger than the normal-sized coats, and voluminous jackets, ran the shows at fashion weeks. Baggy jeans and loose t-shirts have been a staple with menswear for the longest of times. But this season, it is wide sweaters, loose shirts, and relaxing pajama styled pants that are creating new style waves. Baggy but cropped cotton pants are preferred for the summer, while the winter look includes large silhouetted woolen cardigans, puffy round sleeved jackets, and huge eccentric collared coats.
Oversized leather jackets are a big hit too. However, the shorts and trousers still remain fitted for men. Accessorizing the whole look with caps, shoes with a little pattern, leather belts, and pop-colored watches will help break the monotony. The colors for men are hues in neutrals, navy blues, browns, blacks, and anything that camouflages well.
The oversized trend is being embraced by trendsetters, and has carved a place for itself among men and women, of all sizes and shapes. The ultra comfort fit and soft coziness of garments makes it most suitable for winters. It might take time for the fashion conscious, to bid adieu to skinny jeans and fitted cocktails or couture suits, but once they slip into a big piece of cloth, all the inhibitions will vanish.
Designers are making sure that oversize must not look sloppy, and believe in giving the fabrics a certain weight and quality, so that the fall looks beautiful. Fuller tailoring is less grungy and lazy, more chic and feminine, and is back but only with more dainty cuts and patterns.
The flexibility of wearing an oversized garment is attracting designers to explore this lucrative trend. The change began with big, bulky, and sculptural coats that gradually caught on to the rest of the trend. The biggest benefit of oversized fashion is that it fits any figure. Dressing over proportion is making its way in fashion and is a rising trend, be it from street wear to couture, from relaxing holiday wear to formal wear, from casual wear to the red carpet, everyone seems to be sporting it.
References:
1. Fashionbeans.com
2. Youlookfab.com
3. Artofwore.com
4. Smh.com
Image Courtesy:
1. Catherinehammick.files.wordpress.com
2. Urbanoutfitters.com
3. Marketplace.asos.com