Every woman desires the perfect hour glass figure especially for certain occasions. Wearing and flaunting certain styles, requires one to have a good physique in order to look flawless. Working out and eating in control is one way of doing it. But the only quick fix to slipping into a beautiful silhouetted dress and getting the ideal figure is by wearing a shapewear.
Shapewear is an undergarment, made up of a material that is elastic and can stay rigid. The fabrics of shapewears are designed to nip and tuck the body for a seamless figure. It helps women reshape their bodies, flatten their bulges, lift what sags, and straightens their postures. With the increasing demand and development of new technology, shapewear is getting more comfortable. In fact many women have made shapewear a staple with their everyday wear. And this has caused a huge demand among consumers for lingerie that can also be used as shapewear.
There are a variety of shapewears available. They are used to enhance different parts of the body like hips, thighs, stomach, abdomen, waist, and the chest. The upper body shapewear consists of shaping vests, camisoles, corsets, and under bust shapers. These styles normally tuck the stomach in, and uplift the busts to beautify and make the cleavage more visible. Cotton and skin friendly fabrics are used to manufacture upper body shapewear to absorb sweat and provide comfort to wearers. They are usually worn under tops and dresses.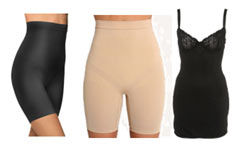 Hips and thighs are also parts where women accumulate weight and hence use shapewears to cover. Shaping knickers, thigh shapers, and slimming leggings styles can be worn to slenderize the fatty areas. The hip and thigh shapewears also tone the bottom region and swathe the panty lines.
The stomach baby fat is what all women commonly crib about. The waist style shapers such as girdles and waist nippers provide close to washboard abs results and start below the bust region. These are generally made of spandex and nylon to provide seamless smoothness and finishes.
And if one requires all the above functions of shapewear in one single piece of undergarment, they opt for full body suits and control slips. They provide complete shaping benefits and are ideal for wearing underneath dresses and fitted attires.
Besides this, the amount of shaping and the pressure used in shapewear determines the impact and results of these undergarments. There are four main categories of leveling in shapewear namely light, moderate, firm, and extra firm. The light control shapewear such as a shaping vest or slip can be wore everyday with regular clothes. Moderate control shapewear is tighter than the light one, and is designed to tone the body a little more. These help in shaping waist, hips, and thighs. Firm control shapewears aid in slimming a problem area, but this form of support cannot be wore for day long activities. They can be worn on special occasions only. The extra firm provides the highest level of support and can size down the body up to an inch, enhancing covers and giving a slender looking body.
Shapewear is crafted to channel excess weight to help one appear slimmer by an inch or two. The fat is dispersed into spaces where muscles are compressed, such as abs. A well engineered shapewear moves the body fat to desirable places to make one's figure more desirable.
According to a survey conducted by INVISTA, 93% women would like lingerie that would provide shaping and contouring functionalities. The average age of consumers using shapewear is 38 to 42 years, considering women undergo weight gain at this stage due to pregnancy and menopause. There have been debates whether wearing shapewear poses health problems or not? But with technological advancements shapewear has become even more comfortable.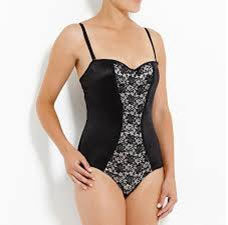 The shapewear products these days are made up of cotton, lycra, elastane, nylon, spandex, and latex. The materials produced by combining these blends are soft, smooth, flexible, skin-friendly, light weight, and extremely convenient to wear. Using fabrics that prevent overheating, sweat, and allow ventilation between the skin and the undergarment are being used to make shapewear a viable alternative to lingerie. Fabrics with moisture management properties are being used for shapewear, to provide comfort when something is being worn so tightly against the skin.
Black, white, and nude shades remain popular choices for shapewear. Many brands have come out with colorful and lace shapewears to make this undergarment stylish. Women in Europe and USA are already embracing this trend, while the demand in emerging countries, especially in China is growing. New fashion trends and celebrities have given a huge impetus to the shapewear trend, and to achieving the perfect figure and looking confident. Shapewears are being the new seamless functional lingerie and as a sector are continuing to grow.
References:
1. Adumbro.co.uk
2. Shape.com
3. Melesmust.blogspot.in
4. Itc.polyu.edu.hk
Image Courtesy:
1. Candistech.com
2. Stylefarm.com.au
3. Shop.target.au.com