Every woman desires the perfect hour glass figure especially for certain occasions. Wearing and flaunting certain styles, requires one to have a good physique in order to look flawless. Working out and eating in control is one way of doing it. But the only quick fix to slipping into a beautiful silhouetted dress and getting the ideal figure is by wearing a shapewear.
Shapewear is an undergarment, made up of a material that is elastic and can stay rigid. The fabrics of shapewears are designed to nip and tuck the body for a seamless figure. It helps women reshape their bodies, flatten their bulges, lift what sags, and straightens their postures. With the increasing demand and development of new technology, shapewear is getting more comfortable. In fact many women have made shapewear a staple with their everyday wear. And this has caused a huge demand among consumers for lingerie that can also be used as shapewear.
There are a variety of shapewears available. They are used to enhance different parts of the body like hips, thighs, stomach, abdomen, waist, and the chest. The upper body shapewear consists of shaping vests, camisoles, corsets, and under bust shapers. These styles normally tuck the stomach in, and uplift the busts to beautify and make the cleavage more visible. Cotton and skin friendly fabrics are used to manufacture upper body shapewear to absorb sweat and provide comfort to wearers. They are usually worn under tops and dresses.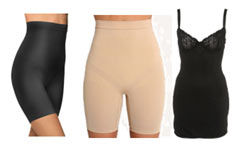 Hips and thighs are also parts where women accumulate weight and hence use shapewears to cover. Shaping knickers, thigh shapers, and slimming leggings styles can be worn to slenderize the fatty areas. The hip and thigh shapewears also tone the bottom region and swathe the panty lines.
The stomach baby fat is what all women commonly crib about. The waist style shapers such as girdles and waist nippers provide close to washboard abs results and start below the bust region. These are generally made of spandex and nylon to provide seamless smoothness and finishes.
And if one requires all the above functions of shapewear in one single piece of undergarment, they opt for full body suits and control slips. They provide complete shaping benefits and are ideal for wearing underneath dresses and fitted attires.