Point of Sale is where the process of a retail transaction ends. It is when the consumer makes payment for a particular product or service. Retailers initially used to maintain electric and manual cash registers to record data of sales. But with the advent of software systems this process is simplified.
Point of Sale (POS) systems or electronic POS are positioned wherever a transaction occurs. It is the terminal that is used for checkouts in clothing and apparel store. The POS systems use software that offer much more than just recording the sales data and printing a receipt, it integrates with customer relationship management, tracks inventory, provides sales history, and does account reporting too.
A lot of high end retail brands use extremely expensive and advanced POS software, some of which are customized according to their needs. It improves the productivity and efficiency of retail stores. The following are the features most POS software possesses:
1. Inventory control: Sales executives can record and update information related to stock outs and discrepancies, track serial numbers, track supply movement, get data on best and worst selling articles, details related to product costs and profit margins. Moreover, this feature includes automatically updating the stock replacements or refills required, and directing store deliveries.
2. Customer Relationship Management: This feature helps tracking every detail of a customer. It comprises of data like the name, address, measurements, birthdays, anniversaries, buying habits, and details of family members of a customer. It also allows the sales executives to enter notes to provide better customer service and build better relationships. Having data beyond sales, and taking care of customers by knowing specific details keeps them coming back.
3. Multi-store communication: Apparel retail brands have a number of outlets. This attribute helps to make communication among them regarding stocks, inventory, and inter store transfers.
4. E-commerce: Through this feature, retailers can coerce their e-commerce platform. It allows uploading data related to inventory, customers, and prices to online stores and at the same time download customer orders, for further processing.
5. Merchandising Reports: This helps generate daily and weekly sales reports to determine the strengths and weaknesses of individuals working in a store. Analyze items, sales history, and keep a track of what is on high demand and what is not.
Besides, these basic features, POS software can also help print item labels and barcodes for purchasing and receiving, and storing information related to loyalty points, gift coupons, and other frequent buyer schemes. The software for POS is either web-based or purchased. Both have their own merits and demerits.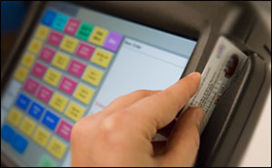 With web based software, a retailer does need to purchase expensive software but needs to pay a monthly fee, it also provides a back up of all forms of data, one can access the information from any system using internet, and the software provider offers the facility free updates. However, the retail stores require constant internet connection to use the software and some may also be compatible to a certain hardware only, which the retailer might have to purchase along with the software.
If POS software is purchased then there are no monthly subscriptions to be paid, but updating the software from time to time, comes with a price. These are generally easy to use and set up, and do not require internet connections. The only drawback of purchasing POS software is that the information cannot be accessed from any remote computer.
The next big thing in POS software is Cloud based Point of Sale. This latest technology is internet based and does not even require computer systems. Everything that has to do with a POS can be done using a smartphone or a tablet. This software is going to be a huge hit with the apparel retail stores. Whether one has a small brick and mortar store, or an online store, is a seller at a trade show or a flea market, all one needs is an internet connection to get into the inventory and view information. There are already mobile applications available that integrate with cloud POS to work seamlessly and manage one's sales and inventory.
Using POS software for clothing retail stores improves the sales, and enables sales executives to provide better services. Since this software is easy to use, no extensive training is required, and hence increases employee productivity. It also aids in keeping follow up on the fast moving colors, prints, styles, and other clothing attributes. It provides better comprehension of buying trends and offers quick analysis of new opportunities. Up to date and accurate assessment of inventory is bound to increase business. It helps determine the best on floor sales executive and their performances.
Point of Sale software solutions permit to provide a retail perspective and useful business insights to run, whether it is a single outlet or a chain of retail stores, in an organized way. It streamlines operations and improves the profit margins. With new and different kinds of software available, and a host of different features to choose from, the clothing retailers can now propel the sales of a store smoothly.
References:
1. Toptenreviews.com
2. Informationweek.com
3. Rapidpos.com
4. Retailanywhere.com
5. Shopify.com
Image Courtesy:
1. Global-free-classified-ads.com
2. Usr.com