The men's fashion trends from summer to winter in 2013 have new styles and bolder looks to embrace this year. This spring summer it is all about keeping it simple. Less is more and every piece of garment one wears counts. One trend that is moving fast is stripes, but not just with shirts, pants and jackets too. It's raining stripes from nautical to pinstripes to rugby, from vertical to horizontal, the spring/summer collections of designers exploited this trend thoroughly.
If one plans to take a stroll in the park, or hang out with a bunch of friends, then going casual with a pair of shorts and teaming it up with a cool casual blazer, would make one look instantly fashionable. Wearing sporty shoes or relaxing beach sandals will complete this look. With colors getting brighter and bolder, the men's fashion scene is also flooded with punchier hues. Poppy reds, lemon zests, and peppy tangerines are few shades to experiment with this summer. Colored trench coats have also hit it big with stylish men's wear this spring season.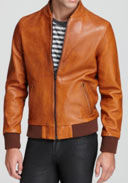 Bolder patterns made its way on to the runways and are meant for men who wish to try something new and dare to look different. Another trend bombarding the men's fashion wear is that of bomber jackets. These comfortable yet modish and versatile jackets show no sign of abating. The best part about bomber jackets is that they widely suit all kinds of figures.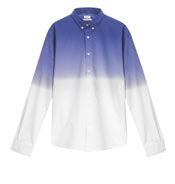 The ultimate summer trend, to a large extent borrowed from the women's style box, is that of ombre shirts, t-shirts, and jackets. Camouflaged military and safari inspired prints in jackets are a perfect way to bring out adventure in one's clothes. This trend is expected to rule even in the fall/winter mens collection for 2013.
Blue is the new black as far as suits are concerned. All navy blue or bold blue retains the sophistication of a suit and yet gives a little edge to ones personality. However, pop colored suits are also equally trendy, all one needs to do is muster some confidence and pull it off with the right attitude.
A color that continues to remain associated with summer with the longest of time is white. Clean and crisp white shirts, jackets, pants or even suits are a lifelong investment and never die out of fashion. Similarly, another color that remains à la mode in the fall and winter season is grey. And even in 2013 designers are still exploring newer shades of this color.
But the refreshing element this season is mixing and matching different shades of grey all at once. Wearing suits with grey shirts and grey neck ties, for casual wear throwing a chunky grey knitted scarf with trousers and an overcoat are easy ways to master this trend. All grey charcoal suits are already a favourite among the fashion forward and celebrities.
Statement scarves are the best way to add a little color to one's winter outfits and break the monotony of a dull ensemble. Another winter accessory that is a must have are country style berets to add a little class to the look. The emphasis is on patterns this fall/winter. Mixing and matching patterns and striking a contrasting look are the way to look trendy. Amalgamating micro-plaid dress shirts with a fun printed tie will make office attires cool.
Bomber jackets are here to stay even in the fall and winter. Along with that gilets or vests with fur lining or knitted will be the new fad and the trendiest way to keep warm. Blazers and jackets with bright colored pocket squares are one of the buzzing trends of 2013.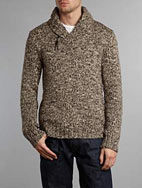 Moreover, the turtle necks or roll necks are just getting bigger; this includes fur necks, heavy knitted necks, or handcrafted feel chunky polo necks. One can wear then with a slim fit overcoat to stand out and make a statement. Speaking of winter, one garment that is a staple and apple of the eye of designers are the overcoats. If one is the daring kind, then opting for bold prints or stand out colors like a burnt orange would be suitable. For a classy look black, camel colored, or grey are preferable. To buy an overcoat that lasts forever and is beyond fashion trends, one can invest in a high quality wool or cashmere coat.
Bid goodbye to the winter blues and embrace the color blue. Cobalt, navy, and dusty blue are going to take charge even in the fall. Balenciaga, Armani, and Gucci showcased collections for the fall/winter 2013 in blue. Checks are also going to be equally trendy and will be seen in overcoats, jumpers, and even pants.
The regular winter items like leather jackets and boots, varsity jackets, and sporty hoodies will continue to remain in fashion even in 2013. Bright colored and patterned shoes, leather gloves, flannel blazers, and classic eyewear will be the gentleman's accessories to accompany the stylish styles during winter.
References:
1. Gq-magazine.co.uk
2. Fashion.telegraph.co.uk
3. Huffingtonpost.ca
4. Theaustralian.com.au
Image Courtesy:
1. Blogspot.com
2. 2013fashiontrends.com
3. Outshit.com
4. Collection.filippa-k.com
5. Houseoffraser.co.uk