Tottering rupee slips to 60 as RBI refuses to lend a helping hand
The Reserve Bank of India's refusal to defend the rupee at 60 - a psychologically important level for many - led to panic in the foreign exchange market on Wednesday afternoon.

Banks rushed to buy dollars after having shorted the US currency on the bet the RBI would continue selling dollars. "The RBI was there (selling dollars) at 59.90 and there was some intervention in the morning... But no one thought it would let the rupee slip below 60," said a dealer.

As banks covered positions to cut losses, the rupee, already under pressure due to dollar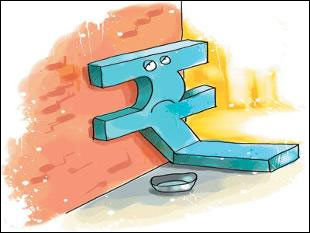 demand from corporates, oil firms and foreign portfolio managers selling Indian securities, plunged to 60.76 before ending the day at 60.73, a new closing low against the dollar.

"I know the upside for the rupee (58-59 per dollar), but I cannot say anything about the downside. This is unseen, untested," said Navin Raghuwanshi, V-P, DCB.

Many were left wondering the RBI's next course of action. Sections felt the regulator may impose trading limits on banks, as it had done in the past, to curb speculation. "While measures such as lower net overnight open position limits for banks may provide short-term relief, quicker policy reforms are needed to substantially ease upside pressure on USD-INR," said Samiran Chakraborty, head (India research), StanChart Bank.

"This (quicker policy reforms) is unlikely ahead of the 2014 general elections. Technically, immediate resistance for USD-INR is at 63," said Samiran Chakraborty of Standard Chartered Bank.

Many banks are staring at significant bond losses for the June quarter that could wipe out profits from the bond rally which ended with Ben Bernanke's May 22 statement that the US Federal Reserve would lower bond buying. "These days bond traders turn nervous the moment the rupee weakens. They fear FIIs will pull out more debt money...There is no view on the interest rate," said the head of a large bond house.
Since Big Ben's statement, FIIs have sold bonds worth over Rs 35,500 crore. Foreign funds started selling equities since early June, and have offloaded more than Rs 10,000 crore of shares so far this month. Offshore funds have withdrawn $7 billion this month in equities and debt. "Even if there are no mark-to-market losses, the gains may be minimised," said Vaibhav Agarwal, banking analyst, Angel Broking.

A few senior bankers had told ET last week that the RBI would not sell dollars to subsidise the exit of FIIs or support bullion traders importing gold. "It's now becoming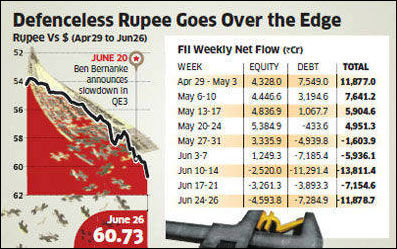 clearer that the central bank would supply dollars only for genuine imports. But how long can it wait?" wondered one of them.
The RBI's absence has also emboldened exporters, who are holding back the sale of dollar receivables. Many small importers, operating on thin margins, have been badly hit while some of the jewellers have also taken a knock, having kept imports unhedged while selling exports earlier when the rupee was stronger.

The rupee has lost almost 11% since May and was lower 1.7% from its previous close of 59.67 on Tuesday.

"The market is very thin. It does not have the capacity to absorb such huge ticket sizes anymore," said a currency dealer from a private sector bank. "I have not seen any exporter in the market in the last 15 days."
This article was originally published in the Economic Times dated 27th June, 2013, in association with the Economic Times Bureau, Mumbai.