Taiwan has emerged as an international player in the global textile and apparel industry. One of the four tigers of Asia, Taiwan is an upcoming destination for producing quality textile products and is developing cutting edge technology to tickle the fancy of the markets of U.S and Western Europe. The government's approach of promoting small and medium scale textile industries and generous support programs of the European Union have made the Taiwanese textile industry a lucrative manufacturing market.
The production of environmentally friendly and innovative textiles are increasing in Taiwan and setting new opportunities for this island nation. Taiwanese manufacturing companies are in the league of top innovators of the world, offering textile products that reduce pollution, are made from recycled material, and are sustainable. The Council for Economic Planning and Development, Taiwan, stated that manufacturers of the nation produce 70% of the global market for green textiles. Producing functional clothing is another strong aspect and contending area in which Taiwan's textile industry is progressing immensely.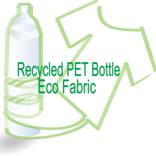 One of the biggest projects that Taiwan has incorporated and created a benchmark for is the recycling of Polyethylene Terephthalate (PET) bottles to create yarns for various textile requirements. Companies have been recycling PET bottles to spin yarns since 1989. However, 1995 marked the beginning of developing yarns from these plastic bottles and offering textile material. Advances in technologies have led to separating clean PET bottles from the not so clean ones with the help of optical sorting machines. Taiwan is the fourth country in the world to make yarn from PET bottles and plastic waste, after United States, Germany, and Japan.
The bottles are melted into small chips and later spun into yarns. The high quality chips are used in making longer fibres that are used for apparel and clothing, while the low purity level ones are used in recycled products such as carpets, shopping bags, and fillers. The amount of water used to dye such fabrics is quite minimal and the process for developing such textiles reduces the carbon footprint by 30-40% in lieu to producing from virgin sources, making recycling plastic bottles an environmentally viable alternative.
Another path breaking invention has been of developing odorless fabrics with the use of ground coffee beans. The material is used in outdoor apparel and athletic wear to absorb body odor adding value to such clothes. The company today supplies fabric to more than 70 companies including leading sportswear brands like North Face and Adidas.
Unique fabrics and pioneering concepts are being developed in this island nation, one of which is a material that keeps the body cool and dry even under the scorching sun. The fabric was created by using jade stone particles with textile fibres allowing the wearer to feel 1° to 5°C cooler. This comfortable material works on the mechanism of absorbing heat very slowly and dispersing it swiftly.