The word ethnic is related to the cultural ties, the traditions and something also sacred to that specific land. Today we see the word ethic being connected to almost anything and everything. There is ethnic food, ethnic wear, ethnic themes, or ethnic music etc.
When we are talking about ethnic designs, what I mean is the designs or rather the prints on the fabrics. This is one class of textile design which is connected to the roots of the culture and tradition of people and definitely has geographical indications (GI).
Let us see our country. India expands from Kashmir in the north to Kanyakumari in the south; Rajasthan in the west and Bengal in the east. Each of our states is known for their specialities in terms of textiles. The Kashmiri textiles can be distinguished by the usage of woollen fibres in their garments. The embroideries of this place are known for the motifs of paisleys' done in bright attractive colours. Again the speciality of these paisleys is that they are more elongated and tubular in shape. To make things easier this art is now converted into prints and printed fabrics are produced to give ethnic look with these paisleys. But the origin is not forgotten.
Rajasthan meaning is the "land of kings." It is located in the northwest of India. This is the biggest state of India in terms of land are and one of the largest desert of the worlds the Thar desert lies in this state .The state is known for its royal Rajputs clan (Rajasthan was formed on 30 March 1949, when the region known until then as Rajputana, consisting of erstwhile 18 states, the forts), art of music and very colourful fabrics with the most sensational mirror works and embroideries.
The block prints, tie and dye prints, Bagaru prints, Sanganer prints, and embroidery are majorly carried out in this state and are known worldwide.
Tie and dye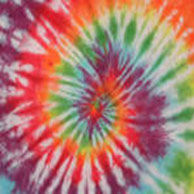 Bandhej is the form of tie and dye known in Rajasthan which is believed to have originated some 5000years ago. Dyes used are of natural origin either from leaves of plants, bark, flowers, fruits etc. Tie and dye is one ethnic design which finds its origin in the state of Rajasthan.
Various tie and dye methods are available and developed to produce different effects onto the fabric. Most known ones are the Lehriya, Mothda, Ekdali and Shikari effects which create beautiful patterns. The tying of the thread is the important step in tie and dye, it involves the techniche or rather the style in which the fabric is tied.
Ikat is a famous and well known art of producing self woven prints which requires dyes warp or weft threads, which are tactfully dyed using tie and dye method. A specialty of Rajasthan is the Leheriya or Chundari where the fabric is tied to create stripes instead of the usual dots.