The fabric is most important consideration in designing of garment. It affects both style and function. The same style will not look the same in different fabrics. Hand of fabric influences its use. Attributes like stiffness or limpness, hardness and softness, roughness or smoothness all taken together determine hand of fabric. A great variety of fabrics are available in the market which are created by manufacturers by combining pure or blended fibers, different yarn structure, fabric structure, and by application of finishes in unlimited ways.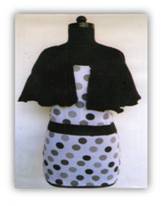 Ultimate appearance of any garment is influenced by compatibility of fabric hand with the desired garment structure. Not all fabrics are suitable for all garment style. Generally final results are best when the innate character of the fabric is compatible with the styling of the garment. The fabric must be capable of supporting the garment silhouette and the shapes within.
Matty fabric is a medium weight fabric which is traditionally used for household articles like cushion covers, sofa covers, table covers and bed covers etc.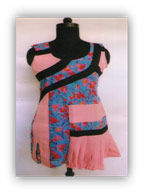 Matty fabric is manufactured using 100% cotton, 100% polyester or blend of polyester and viscose. These fabrics are available at market leading prices in different patterns and colors. The entire range of these matty fabrics is widely acclaimed due to their following features: high durability, high degree of color fastness, and minimum color variation in shades, comfortable nature, anti pilling and shrink resistance.
A project work was undertaken to explore the possibilities of creating variety of garments in matty fabric.
Varieties of dresses are worn by people especially women of different countries. The dressing style of people from different periods and of different regions presents vital clue to their social and economic condition, their moods and tastes, their aesthetic temper, their love for beauty and refinement, their art and skills to adjust to the material and geographical environment.
Variety in dress has resulted from manufacturers response to changes in our habits and roles and the increase in consumer purchasing power. Clothing is now available for all occasions and lifestyles.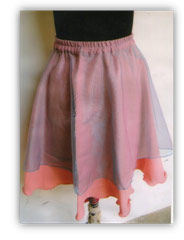 The many types of womens apparel include dresses, business wear, casual wear, social apparel, suits, outerwear, sportswear, active wear, and lingerie (inner wear).
Skirt is integral part of wardrobe of young, teenage girls. Skirt is an item of dress which is very versatile and suitable for many occasions, for formal, informal or part wear. It is slowly becoming popular for executive wear in urban India. The treatment given may present an ethnic look to contemporary to stylish and modern look. The basic silhouette treatment gives variety of designs.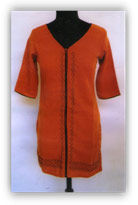 Kurties are very suitable for casual or formal wear. These go well with pants, jeans, or even skirts. They can be worn in every occasion for their elegant look. One can find them in various materials in simple or designer patterns.
It is general practice to use the same texture material for same garment so the effect is not much enhanced due to the similar fabric. Recently for creating newness in stitched garment designers have started using the combination of different fabrics. When two different materials with different properties are combined, it can change the look, drape and profile of resultant garment.
An attempt was made in this project work to utilize matty fabric for designing of skirt, top and kurti either alone or in combination with other fabrics.
In todays world of modernization and globalization, fashion is changing rapidly so there is need to bring innovative changes and new designs in clothing. In case of apparels, variety in design can be brought about by various types of construction details such as seam, yoke, collar, neckline , hemline, sleeve, pleats, gathers etc. called structural design. Innovative changes can be done by various surface enrichment techniques viz. embroidery, beads, sequins, printing, painting etc. known as applied design.
Many beautiful and elegant designs can be created by combining structural and applied designs. An endeavor was made in this project to design garment utilizing construction details, surface enriching techniques and their combination as well.
Garments were designed for young adult females. Three garments were selected keeping in mind preference of the target group. These were: top, kutri and skirt. Three designs of tops, three designs of kurties, and three designs of skirts were developed. Thus total nine designs of garments were created.
Different construction details and silhouette were used to bring variety in designs. In addition, applied designs were also used. Some designs were developed in which matty fabric was used in selected portions only, and some were designed in which matty fabric was used in whole garment.
All the developed garments were evaluated by seventy five respondents of Home Science department. The evaluation of the designs was based on acceptability (uniqueness, suitability of fabric combination, color combination and over all aesthetic appeal) and marketability (cost, like to buy the garment and like to wear the garment) of the developed garments. Garments were displayed to the respondents and grading was done on five point scale on the basis of overall aesthetic appeal, uniqueness of design, suitability of fabric combination and color combination of the garment.
All the nine garments were liked by the respondents. Combination of matty fabric with other fabrics was found suitable. All the products were found appealing and beautiful. Majority of the respondents found cost appropriate and they were ready to purchase and wear the garments. Thus it can be said that matty fabric can be used to prepare garment especially for fall/winter season.
Image Courtesy:
1. Flickr.com
Prof. Suman Pant and Ankita Mishra are professors at Faculty of Home Science, Banasthali University