Developing countries have been associated with sourcing and manufacturing destinations for a long time now. The tides have turned today with the increase in the standard of living of citizens in these nations, which has made them prospective markets for luxury apparel brands and products. But the latest fixation among the consumers is of home textile products and furnishings.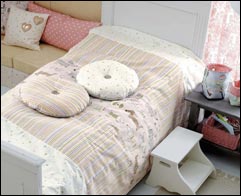 Even in the times of recession, developing countries are showing a steady growth and are certainly driving the economy. With a rapid increase in the wealthy upper middle class of emerging economies and expanding demand for quality products has led to the rise in the demand of home textiles. Having a luxurious lifestyle and glamorous home dcor are being the way of life for many consumers in these regions. There is a certain shift in interest from economical to quality products among the consumers. Moreover, the global economic meltdown has resulted in changing attention from basic necessities more towards services and housing, especially in China.
According to a recent survey Brazil, Russia, India, and China (BRIC) are expected to be the core markets pushing the growth. Latin America and the Middle East are also prospective markets for home textiles. Along with that, the worth of specialty chemicals like textile fibres is said to increase from 34% to 42%. Growth of end-use sectors like housing, hospitality, office spaces, and healthcare have ignited interest in home textiles among consumers. Another interesting prediction in a survey points out that developing nations will contribute to more than one-third of the world's spending by 2020, bringing more power to consumers from emerging economies.
Interior design firms and magazines are fuelling the trend of buying high quality home textile products for many homes in China. The country has witnessed an outburst of luxury international and domestic brands catering to the needs of high standard of living of consumers. Luxury home textile brands like Kumi Kookoon, Shang Xia, and Zara Home have opened outlets in major cities like Beijing, Shanghai, and Hongkong in China and plan to expand soon. Fabrics and upholstery with Swarovski studded crystals have had a huge following in China, making it the second largest market after USA for such embellished home textiles.
According to the China Home Textile Association, the large population, increasing rate of urbanization, and improved quality of living are largely responsible for the growing demand of home textiles like beddings, bed sheets, towels, carpets, quilts, blankets, and covers. The development of e-commerce for home textiles in China also led to the increasing demand.
India is another growing potential market. Based on a research, India's home furnishing market is going to witness CAGR (Compounded annual growth rate) of close to 8% during 2013-2018 and is expected to reach $9 billion by 2020. The rise in the working women population, housing boom in the past few years, and increasing interest among consumers to dress up their homes is accountable for the maturing market of home textiles. The ever flourishing retail industry and growing per capita income make the future of home furnishing in the country more promising. Domestic brands such as Bombay Dyeing, Spaces, Fabindia, Portico, Maspar, and Atmosphere have a pan-India presence and are contributing sales in this sector.
European Luxury home textile companies have been making their presence felt in textile trades and fairs in Russia and UAE. The hospitality sector of UAE and the South East Asian countries are another basis for boosting the consumption of home textiles. The positive influence of emerging markets, in the times of economic instability and its consequences faced by textile fibre producers, has come as a blessing in disguise. Even being in fiscal crunches, has not stopped home textile companies from promoting products to get a competitive edge and take advantage of the increasing opportunities in these countries. Popular brands like Trevira, Morton Young, Begg Scotland, and Borland have done niche product marketing and are holding exclusive events.


The fact that the consumer demands in terms of quality home textile products in emerging markets is similar to that of citizens of developed countries like USA and Europe, are attracting both international retailers and developing the domestic home textile markets. The potential of such products and rising markets can be justified by a study that reports that the number of millionaires is mounting in growing economies while the number is slowly blurring in the developed ones. The number of affluent households increased to 175,000 in 2011 for the most part in China and India.
Home textiles definitely seem to be thriving in growing economies, and manufacturers globally and domestically are fulfilling the increasing demand for such products. With improved standards of comfort and living, citizens of emerging economies demand for better and quality home textile products to enliven their homes with nothing but the best.
References:
1. Adsaleata.com
2. Cottonempire.net
3. Prweb.com
Image Courtesy:
1. Blog.manda.hu
2. Mondofroni.blogspot.hu