Milk Fiber:
Milk fiber is a blend of casein protein and the chemical acrylonitrile, which is used to make acrylic. It's made using a process that is similar to rayon/viscose, but because it's a regenerated protein fiber and not a regenerated cellulose fiber, it reacts like wool. That means that it dyes like wool and even smells like wool when burned, according to Kiplinger.
Characteristics of Milk Fiber:
1. In milk fibre, the natural protein humectant factor is present, which makes the skin delicate and smooth.
2. It absorbs moisture very well as it is hygroscopic in nature.
3. It is antibacterial and antifungal as amino acids present in the fibre.
4. It is glossy and luxurious in appearance, feel and comfortability, just like silk..
5. It is very easy to dye and can be dyed under normal temperature.
6. It can be blended well with other different fibers, such as tencel, cotton, bamboo, modal fibre.
History of Casein or Milk Fiber:
According to Euroflax Industries, milk fiber was invented in 1930's in both Italy and America and was called "milk casein." Casein was invented way before the 1930s apparently they've discovered that many churches from the 14th and 15th centuries were painted with casein-based paints - the colors are still bright and unfaded even to this day! Well, apparently this milk casein stuff is great for paint. But how does that connect with milk fiber?
Apparently "milk casein" fiber was used in many clothing and household items in America and Europe during the 1930s and '40s, says Joan Kiplinger of Fabrics.net. It was substitute for wool, which was needed by men on the front lines. However, it fell out of use after WWII ended and newer, cheaper synthetics such as nylon grew in popularity. The fiber was blended with other natural fibers and known under the brand names of Aralac, Lanatil and Merinova, for those of you checking your vintage clothing labels. While these brands' fabrics were very similar to wool and could be dyed by the same processes, apparently there were some flaws with the milk casein fiber - namely, that it was not as strong and firm, nor as elastic as wool, and the fibers mildewed easily when they got damp.
Production Process of Milk Fiber:
Milk protein fiber production line application processing system cannot do without the cooperation of the link. Shanghai is home on R & D Technology Co., Ltd. milk silk protein fibers, also engaged in spinning, dyeing and finishing of technical research, raw material quality, technology is complete, customers can better support the promotion of milk fiber.
Milk protein fiber can be used, in theory, cationic dyes, direct dyes, acid dyes, reactive dyes, neutral dyes, generally more than the actual cationic dye and reactive dye used is suitable for pure milk protein fiber and its products, such as staple fiber, yarn line, knitted fabrics, woven fabrics and garments. Period in order to milk protein fiber textiles as an example of pure cationic dyes and reactive dyes on the usage described as follows.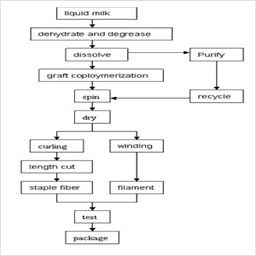 After Treatment of Milk Fiber:
Cationic dyes and finishing the first treatment process, due to temperature and moisture absorption of the products are strong, so do not need special treatment. With 60% water, liquid running back 10s, and then the second can of cold wash. In the special white process, the use of prescription and bleaching conditions were as follows: 5% sodium hydrosulfite (95 with warm water even after accession); 5% of the standard soap powder (use warm water even after the accession), not alkaline, does not contain brighteners; bath ratio 1:20 ~ 30; temperature of 95 - 98 time is about 15s -30s, but also according to liquor ratio, equipment and raw materials of different thickness to adjust.
Note that, if so special white, raw materials without cooling; If the training is finished, then white, must be 2% to 3% of the HAC, 60 ?water running 5s ~ 10s, cold washed twice, and then softening. Prescription and use of the whitening process conditions: 1.6% cationic brighteners (Dilute with warm water even after accession); 3% HAC (Dilute with warm water even after accession); temperature of 95 ~ 98 time of 15s ~ 20s; bath ratio 1:25 ~ 30. In the dyeing process, the basic cationic dye with the general approach, but not 1227, and NaAc. To liquor ratio 1:25 to 30, for example, dyeing conditions to control the following table. Cleaning, light to be 1 or 2 times the cold wash, cold wash in the dark to be 1 or 2 times and then wash with hot water, 70 ?10s, and finally cold wash 1 or 2 times. In the post-treatment processes, the use of softener 5% to 8%; temperature 45 ~ 50, time of 20s or so; bath ratio 1:20 ~ 25.
According to different requirements of customers can choose different softeners, such as the fabric soft, smooth, elastic anti-wrinkle, anti-contamination, etc. when requested, by the production units to decide. In the dehydration process, in order to reduce the discount video, dehydration, slower, time is shorter, usually 1 minute each time, while patients have to grow together, try not to let cloth folded. In the drying process, the use of the cage drying temperature of 80 ? 5 ? time is 20s ~ 30s, speed too quickly, after drying grounds lit 12 to 24 hours after the stereotypes. Using rotary drying temperature of 90 ? 5 ? fast speed, the disadvantage is the easy bit like a very light, must be strictly controlled temperature.
In the setting process, the general shape of water rolling open sites, the effect is better than the cylindrical shape. Process parameters are 150 ? 5% overfeed of 10%, the line speed 15m / s, the pressure head of about 4kg. Reactive dyeing of basic aspects of pre-treatment with the former, but if the dye houses using recycled water, pH value may be unstable or reactive groups dealing with different materials, can be the first treatment bath by adding 1% of the HAC, it will give the pH value of the cloth evenly from the inside out, but also conducive to color dyes.
Proven, low temperature dyeing cotton used reactive dyes more suitable, light-colored soda instead of baking soda can be used as dyeing auxiliaries, the amount can be as long as required to achieve the color, the dark can be used for dyeing auxiliary sodium sulfate and soda ash, the amount of cotton fiber dyed with similar.
Uses of Milk or Casein Fiber:
Because of the healthy & bacteriostatic nature of milk Fiber, it is being considered as a perfect material for manufacturing of underwear. As discussed above, milk casein proteins are considered as a main ingredient of milk protein Fiber, which can lubricate the skin. The milk protein contains the natural humectant factor which can help to maintain the skin moisture, to reduce the wrinkles & to smoothen the skin - which may help to realize the people of taking milk bath.
The major usages of milk Fiber are as given below:
T-Shirts
Underwear
Sportswear
Ladies outerwear
Sweaters
Image Courtesy:
1. Ashlandbay.com
This article was originally published in Textile learner blog run by Mazharul Islam Kiron.