The changes in the global apparel industry have been many and today, nobody has to look frumpy. There are perfect clothes for everyone from size zero to plus sizes, from brides to mothers-to-be. With so many emerging as well as well-established brands all around the world, today being pregnant signifies that one can remain stylish, comfortable and chic throughout the nine months.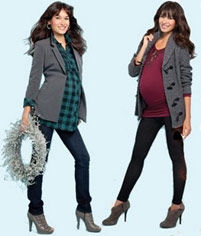 The popularity that maternity apparel has gained in the recent years is all credited to the celebrity pregnancies. Other more significant factors that have brought the maternity wear to limelight are growth of e-commerce industry, the awareness that the pregnant women have gone through and the need to look presentable and feel comfortable at workplace while the baby bump is growing. The fitting is better, the designs are better and there are several brands and also local boutiques that are providing maternity wear.
The transformation that the overall pregnancy age has witnessed has also brought about modifications in the choices of clothes that are available in the market. Some women are deferring pregnancy at one end, and there is growing number of teenage pregnancies as well. As a result of this, pregnancy age range has widened in recent years and altered the market needs and opportunities. The prospects of maternity wear are bright and this has brought several new entrants in this segment of industry.
The big brands in maternity wear are improvising to ensure that they do not lack the freshness and enthusiasm displayed by the new comers, both large and small. The key players are focusing to generate a niche market with exclusive focus on specific factors like size, colour, style, fashion, and design. The fight for supremacy is much more powerful in the retail sector. Factors like store location, pricing, inventory, and range are important factors that decide the popularity of stores. The competition is at all levels from prices to range and from stores that specially deal in maternity wear to department stores, discount stores, independent stores, and on-line retailers all are involved in this race.
The demand for maternity wear is on rise in the developed nations. As per a report by Global Industry Analysts the maternity apparel market in the U.S.A. is expected to reach $4.8 billion by 2015. Currently 3.7 lakh infants are born every day in the world and this is the reason that maternity wear is a growing market. It is anticipated that the industry revenue will grow by an annualised 6.2 percent to total of $178.4 million by the end of this year.
The rise in the number of working females has led to rise in demand for fashionable and professional maternity clothing that is appropriate for the work environment. However, today pregnant women prefer to buy clothes from 'online-only' operators, as it can be hard to visit multiple bricks-and-mortar stores during the last months of pregnancy.
Most of the bigwigs like Gap, H&M, Forever 21, and Wal-Mart understand the need of comfort fabric during pregnancy. Also, the criteria such as quality of manufacturing and fiber content become paramount for the expecting mothers. Comfort in apparel is an obvious demand of pregnant women, especially as the terms progress, and this ease can be achieved through natural fibers like cotton.
The manufacturers ensure that there are apparels available in natural, eco-friendly and organic fabrics. This can raise the prices of the maternity wear, following which there are many women who prefer to buy such clothes from thrift market or from stores that sell hand-me-down maternity wear. As per a report, on an average 89 percent of tops purchased are composed of 60 percent to 100 percent cotton and the same applies to the bottom wear, with an average of 75 percent of the sale comprising of cotton between 60 percent and 100 percent and 59 percent being made from 100 percent cotton.
In Asian countries like India, China and Pakistan, the demand is not as high as that in the U.S.A, but with changes in work patterns (with more pregnant women opting to work till last months of pregnancies) and exposure of women to global fashion, the maternity wear retailers and manufacturers are expecting a rise in demand. Some other developed countries, like United Kingdom are also anticipating a rise in this segment of womens wear.
The challenges faced by the maternity wear stores are similar to the regular apparel industry in some ways. The business in maternity clothes is generally good, but there is a large amount of regional variation and the demand can dip and rise, unexpectedly sometimes. In developing nations, though there is a growing awareness concerning maternity wear, but the prices play a significant role in boosting the sales.
The maternity wear market in developed nations is facing a lot of competition from some standard retail shops, as today there are loose-fitted patterns and designs available in regular wear that can fit women in their early stages of pregnancy. Also, the manufacturers are yet to overcome the challenge of coming up with a good fit during various stages of pregnancy for different women. Presently, most retailers produce maternity wear using a standardized size chart that starts with women in their seventh month of pregnancy. Retailers produce garments for women who are earlier in their terms by adjusting the sizes a little as per a standardized size chart.
The optimistic side of the story is that the earlier trend in which many women chose not to spend too much on maternity wear has altered now, as the demand to look good at workplace is far overpowering these days. Previously, the uncertain economic climate influenced the maternity wear market more than any other apparel segment, nevertheless, today women are buying more items of specific maternity clothing, as comfort along with looking good, is their priority during the pregnancy.
References:
1. Ibisworld.com
2. Entrepreneur.com
3. Prweb.com
Image Courtesy:
1. Fashionox.com
2. Theceleb.info