The end of every year brings a fresh new start for the upcoming one. Fashion is no different, and 2014 is here with latest trends and styles one must embrace and enjoy this year. While some trends of 2013 continue to linger this year too, while for some, one will need to make room for in their wardrobe.
Baring the mid-riff and showing the perfectly trimmed abs with the obsession of crop tops is incessant this spring season. And for those who do not dare to show-off, meshes and laces can help conceal and reveal some. Colored mesh inserts and overlays will be seen in tops, dresses, and skirts in 2014.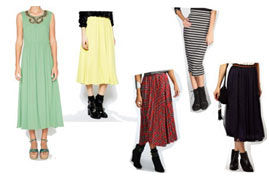 Fuller and long skirts will remain in vogue for the spring/summer of 2014. Feminine silhouettes in tea-lengths were seen on the runway showcased by designer labels like Christian Dior, Tracy Reese, and Roksanda Ilincic. 2014 is about time to ditch the skinny tight fit denims and embrace the new trend of loose, flared, and wide legged trousers. These comfort fit pants are here to stay and adorn the spring/summer fashion must haves.
Inspired from men's fashion, shirts with collars and cuffs in contrast colors or textures and buttoned down looks will be popular for womenswear too. Pair them up with pencil skirts and big pants for a cool casual summer look. Sheer fabrics continue to lure fashion designers in the New Year too. The runway saw separates and full sheer garments by Burberry Prosum and John Rocha.
The colors for the spring/summer 2014 are light and soothing pastels. Floral prints for this season are big and bold. Dark, dull, and solid colored backgrounds with bright pastel flowers printed on georgettes and chiffons set the mood for a fashionable summer. Art inspired print and graphical illustrations in interesting designs will be flooding the fashion market in the spring/summer 2014. Pop art influenced motifs will be highlighted in garments like T-shirts and dresses.
Fringes in drapey georgettes and rayon fabrics will also be a big trend for this year. Oriental prints and delicate embroidery will enhance these styles. One fresh trend is of the shift blouse, which is a classy version of a T-shirt. The silhouette is boxy and the sleeves are elbow length and loose. It can be worn with skirts, trousers, and even with suits.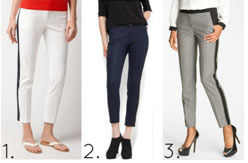 Sporty layering is another rising fashion trend. Sweat pant styled trousers with stripes on the sides are a result of the sports meet chic dressing style. Bomber jackets are a la mode for spring/summer 2014 too. The chic sportswear will continue to rule in the year twenty fourteen too.
Come winter, the fashion trends for 2014-15 are going to get more glamorous. After the Great Gatsby lured the interest of many fashion designers and impacted the evening looks for the last season, this year the blast from the past is the retro look of the 50s, which seems to have a huge influence on garment styles. Skirt suits and boxy jackets will make way for some chic evening and formal womenswear. Over-sized coats sans the collar and lapels, pencil skirts, and embellished sheath dresses. Feather, metallic, and pearl embellishments will be seen in elegant dresses and suit-styles.
Another fashion drift that Parisian labels have introduced is of the male inspired looks for womenswear. High waist pants, broad shoulders, and biker jackets are some styles that one can experiment with. This look is also inspired by rock and includes sleek leather jackets, moody plaids, and floral prints in dark colors. Studs, zippers, and buckles are a few embellishments that will complement the look. Geometric prints, monochrome plaids, photo imaginary prints, and abstract animal prints.
Autumn winter 2014 also has a lot of bohemian patterns and styles showcased by designer brands like Matthew Williamson, Suno, Mara Hoffman, and Valentino. Prints that will make a buzz this season with such styles would be retro geometrics, baroque swirls, and abstract ethnic prints. Detailing like fringes, appliqu work, and embroidered borders will be found in flared pants, maxi dresses, matched sets, blanket coats, and winter shorts.
Overall the colors that will beautify the collections of fall winter 2014-15 are blush pink, brandy wine, bubble gum, toffee brown, deep sky, shades of turquoise, bubble gum pink, African violet, tangelo, and coral. Peplums, cut-out dresses, and the high-low hemlines in tops, dresses, and skirts will continue to be trendy in 2014 too.
With improving economies and markets, fashion in 2014 has many new styles, patterns, and prints to indulge in. From pastel hues of spring and summer to neutral hues and solid colors in winters, from loose flared pants to sports-inspired trousers, from sophisticated silhouettes to flirty cut-outs and lengths, there are a lot of new fads to look out for in the New Year.
References:
1. Instyle.com
2. Thefashionspot.com
3. Glamour.com
4. Bustle.com
Image Courtesy:
1. Globalmarket.com
2. 75andsunnylooks.com
3. Hotbeautyhealth.com