There is no charm in wearing a garment if does not fit one right. The way a piece of clothing shapes the body and frames the way one looks is extremely important. Hence today, more and more number of people demand customized clothing. This has brought the much talked about three dimensional scanners to achieve the perfect fit of any possible style of clothing. This technology is going to change the way clothes are being manufactured and even sold by retailers.
The development of advanced technologies and integrating it with Computer Aided Designs (CAD) has brought life into what used to be a flat two-dimensional sketch of a garment and given much more detailing by making it 3D. Garment simulation is however not new to the industry, but the demand and combination of techniques it can be used in is evolving dramatically. The result of which are virtual prototyping and visualizations in the garment and fashion industry.
A technology like this makes it easy for designers, apparel manufacturers, and pattern makers to represent styles, the fit, and patterns to their clients with enabled features of sharing it instantly without consuming more time and money. The apparel industry can make use of 3D body scanners in more than one way. Besides being used in virtual trial rooms, the software can be used for virtual make-over, for size surveying, making dummy mannequins, and personalized garments.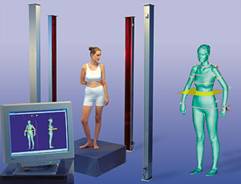 The 3d body scanners are used by high-end apparel retailers to provide their customers the privilege of availing the perfect fit with such a technology. These devices scan the body of an individual and create a virtual avatar for them, using which customers can try on different styles and sizes to get a three dimensional look of how the outfit appears and shapes their body type. Moreover, customers can see if the color matches their skin tone, match tops and bottoms, and try different accessories without having to change every single time. Moreover, some retailers have set up 3D body scanners in their stores that allow them the facility to share their avatar on their social media accounts and also help them shop online using their personalized avatar. Some scanning systems let users also watch their prototype in motion.
Size surveying is used by many garment and high-fashion retailers to produce better quality clothes and designs. Anthropometric data, which is evaluated information of a comparative study of sizes and proportions of a human body, can help improve design quality of a garment, usability, aids in designing work stations, planning at a workplace, and even take care of issues like work safety in an environment. 3D body scanning can save time and efforts to survey and study measurements in order to understand their customers better by the clothing industry. Moreover, apparel manufacturers can study sizes based on demographics, gender, ethnicity, profession, and age to understand their body types and target their customers with better products.