Fashion is cyclic and so are trends. Time and again there are styles and looks that are re-invented by designers or return to the runway in their original essence. Hence each year a retro brigade of designs, colors, prints, and patterns hit the stores and become a much embraced trend. In the fashion industry some trends are ludicrous, some become outdated, and some come back with newer ideas. Twenty fourteen is no different, and have many vintage and retro looks borrowed from the past for the spring/summer and autumn/winter fashion.
Trends are believed to re-emerge in fashion every twenty years. The one big trend which is still alive and kicking is of crop tops. For those who refrain from showing off their abs, styles with sheer panels around the waist and high waist pants and skirts are a perfect way to conceal and flaunt the style. The floral print being a summer essential has also gone retro this year. From Michael Kors to Depazo, Harbison, and Jen Kao showcased their collection of flower power in multiple pieces at the New York Fashion Week for Spring Summer 2014.
Another blast from the past is decking up the tops and bottoms in same prints. Match sets, a huge trend of the 40s, might seem to be a huge fashion faux pas for many, but the trend has come back in a big way. Coordinated sets of tops and pants or skirts of exact same prints were seen in popular spring summer collections of J.Crew, Vivienne Tam, Mara Hoffman, and Diane Von Furstenberg.
The most embraced trend of the 90s has caught the fancy of designer labels like DKNY and Marc Jacobs. Jumpsuits, overalls, or one pieces are the playful statement pieces to look forward to this spring and summer. Dressed up in a mono colored overall and accessorizing the outfit with chunky jewelry is the most stylish ensemble of the summer season and the perfect look to try while holidaying.
What used to be worn as innerwear until now has become a piece of trendy outerwear for 2014. The slip dresses have been seen in collections of Narciso Rodriguez, Marchesa, and Jason Wu. A lot of sheer and silky satin dresses of knee-length and floor length with thin straps are the styles adorned by fashionistas and celebrities. The 90s were all about comfy slip dresses and were best accompanied by flats.
A lot of prints have been inspired from the yester years. Vintage florals, big bold flowers, tribal and Aztec are the prints of choice that have been in vogue and still are here to stay for twenty fourteen spring summer. Pastel and sorbet shades along with the most classic combination of black and white will be seen across all kinds of patterns in 2014. Monochrome is another blast from the past that is here to stay.
To keep the winter blues at bay there are quite a few latest styles imbibed from the previous trends. One of them is of the oversized blazers and pants. Come autumn winter and coats are something fashionistas stock up on. The trend for the year 2014 is of collar less and lapel-less coats, the look is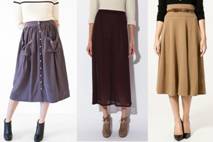 derived from the Hollywood chic of the 60s. They can easily be paired with jeans, tea-length pencil skirts, and even dresses.
Logo sweaters, a trend set by Elizabeth Taylor, and seen in the fall/winter show of Alexander Wang are a must have for 2014. Pairing them with skirts and stockings or jeans for a casual look is the best way to flaunt this quirky style. Some other retro inspired styles for fall/winter 2014-2015 are capris, biker jackets, neck scarves, and pant suits.
Retro graphic prints are also extremely voguish for the year 2014. Art-inspired prints and the glam grunge of the 90s also will have a huge influence on styles for the spring/summer 2014. Tea length skirts and dresses paired with comfortable flats instead of sky-high heals will be seen everywhere in the year twenty fourteen. Moreover, red tartan plaids also would be the fabric of choice for skirts, dresses, and trousers for winter.
Another trend which had-been in the past is of pinafore, dungarees, and overalls in denim is seen to be catching the attention of the fashion conscious and also endorsed by a lot of designers. Baggy jeans, chambray denim shirts, deconstructed dresses, and patchwork jackets are also the effect of retro looks this year. Michael Kors, Peter Som, and Altuzarra are designers whose runway collection paraded the good old denim trend. Sporty chic, the movement of the 90s, was a big hit at the New York Fashion Week and styles such as slouchy pants, relaxed overalls, and varsity jackets were seen on the runway and displayed by Alexander Wang, Victoria Beckham, and Rag & Bone.
References:
1. Huffingtonpost.ca
2. Examiner.com
3. Theepochtimes.com
Image Courtesy:
1. Becomegorgeous.com
2. Fashiondivadesigns.com