Our Indian home furnishing manufacturers are heavily geared towards meeting the international home furnishings demand and we have established firm ground in the international arena. We do have our strengths. If one were to compare other exporters such as China and Pakistan, we contribute a larger share and are the only major net cotton exporter and thus have a major cost advantage over this key raw material. India is also a lower wage operation and is stronger on creative aesthetics as compared to players like China.
While India does suffer from infrastructural bottlenecks vis-a-vis its larger number, countries such as Pakistan and Bangladesh, having lower wage rates than India, often experience severe power outages (as in Pakistan) or have concerns over workers/fire safety (as in Bangladesh). India has been able to capitalize on some of these strengths, and has witnessed strong growth in exports, particularly over the last few years, by Indian home furnishing manufacturers (aided in no small measure by a weak rupee in 2013-14).
As an illustration of this upward trend in exports, provided below are the cross-country trends in market share of exports of cotton sheets to the US: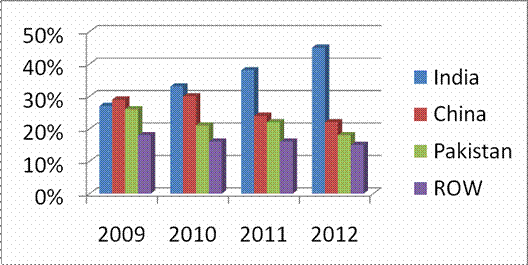 As seen above, India has been consolidating and increasing its share in key items of exports. As a result India currently contributes around 7% share in the total global home furnishings trade of approximately USD 70 Bn. If we speak about just cotton home furnishings (50% of total trade), then the Indian share is close to 9-10%. Close to 50% of this home furnishings industry is comprised of the bed segment and the balance 50% is the bath segment. Indian companies effectively cater to both these segments.
Also observed is that among Indian exporters there are essentially two types of companies - the larger highly organized manufacturers like Alok Ind, Welspun, Trident and Indcount. These large companies essentially make towels and basic home furnishings, where large volumes and low costs need to be delivered to global retailers. And the second among Indian home furnishing exporters are SME exporters, mainly in the Rs. 50-150 Cr turnover bracket. These companies usually manufacture decorative and design led smaller production lots for premium global home furnishing retailers.
It is interesting to note the key features of some of the smaller textile exporters and this is where some of our challenges show up and many SMEs have to cope with these.
While being under continuous pricing and design pressure from clients, smaller, promoter led companies often operate on promoter's enthusiasm, rather than being in a smart auto-pilot manufacturing and marketing mode. On the marketing/merchandising front, company owners often overshadow other's opinions and on the manufacturing side, such companies tend to be traditional or more conservative than their counterparts in the apparel or larger home furnishing sector, in adopting production planning and enterprise resource planning tools.
The net result is that these organizations, like many other SMEs, tend to suffer from a 'Key Man' risk, and may not be able to thrive after the promoter decides to call it a day. There are many critical issues such companies need to address to dramatically reduce promoter dependency and also become more efficient producers.
Understanding and anticipating the skill gaps in the organization:
It is important to understand skill gaps in the organization so that the company can, to the extent possible, run without the promoter - not just in frontline customer facing functions but also at the back end, that usually get bigger as the organization grows. While it is important to anticipate some of these skill gaps, it is also critical that the entrepreneur plugs himself into a flexible recruitment agency that could provide him with a steady stream of potential employees as required. Some of the key areas where smart people may be required by a home furnishing company include marketing & merchandising and production planning and control.
Costs:
It is critical to understanding your cost structure, benchmark it with competition and identify inefficiencies. This usually requires a very comprehensive analysis and needs to be as objective and number based to mitigate any impact of possible internal organizational turf war. Some of the typical cost outages in a textile exporter include Overtime, Air freight and Fabric consumption. Often various departments like to pass the buck- Procurement gets blamed by Production and delays in fabric procurement are ascribed as causes for air freight and overtime, while the procurement department usually returns the 'responsibility' to Production. Efficient IT systems are therefore required to capture the organizational data and serious number crunching should be practiced to identify the real cost culprits.
Systems/Processes:
Having invested in new human resources and understood its cost structure, the organization has to graduate from a hitherto amorphous mass to a relatively better structured self propagating lean machine. It is important to ensure that this smart machine continues to work more efficiently than the earlier one. It therefore becomes critical to put in place a sophisticated Enterprise Resource Planning tool and also set up a Production Planning department to manage and capture internal production data and processes. If these companies do not organise their internal production processes efficiently, they risk becoming martyrs during any economic downturn.

The above are only some of the most common challenges SMEs in this sector face. Given that most of the home furnishing exporters are doing well currently, it may not be a bad idea for SMEs to start adopting the above techniques and continue the upward run!
Viren Malhotra is a 'Scale-Up Expert' and is recognized rightly so among industry peers, especially SMEs. In his career spanning over two decades, Viren has donned many hats, from investor to entrepreneur to business advisor.